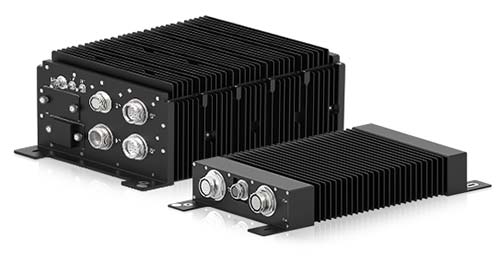 Kontron, a leading global provider of IoT/Embedded Computer Technology (ECT) and a leading supplier of certified Avionics systems for Inflight Entertainment & Connectivity (IFE&C), announced today that it is developing and manufacturing the ACMU and PSU for Stellar Blu Solutions' (SBS) Sidewinder product offering.

SBS has selected Kontron as the hardware provider for the Sidewinder's ACMU and PSU components, a project set to be qualified by the end of 2023. The company's next-gen electronically steered antenna (ESA) communicates with a NGSO or GEO satellite networks supporting most Ku band modems and LEO services. This solution will provide airlines with a highly efficient connectivity platform, but also offering the most flexibility to work with multiple network service providers.
In collaboration with SBS's technology partners, Kontron has integrated its trusted hardware and 3rd party devices to deliver an exceptional ACMU solution. It guarantees safety, reliability, and efficiency by integrating processing, networking, RF control/conversion, SATCOM connectivity, power management, and antenna control functionality into an all-in-one system.
The separate PSU powers the ESA antenna while providing monitoring and control functions to the ACMU. This PSU boasts the smallest footprint on the market, striking a balance between size, weight, power efficiency, and thermal management.
"The decision by SBS demonstrates our continued commitment to providing Avionics solutions using leading edge technology," explains Tony Squeglia, Business Development Director for Kontron. "With recent additions to our engineering resources, and by leveraging our proven designs, we presented a lower risk and accelerated path for these new systems".
"Our multi-network aviation terminals are designed to provide best-in-class in-flight connectivity to passengers while offering more flexibility to the airlines. The Sidewinder ESA addresses a broad range of airframes and airline mission profiles – from high demand global aircraft, regional jets, VVIP & Business Jets, to low-cost carriers. It is critical our chosen supplier ensures reliable avionics systems, while also meeting on-time and cost-effective delivery. With Kontron, we have this partner," states Tracy Trent, CEO at Stellar Blu Solutions.
Kontron has a long history of successfully supplying airborne servers, wireless access points and modem managers to the rapidly growing IFE&C market. There are currently over 5,000 commercial aircraft and business jets operating worldwide with Kontron equipment on board.