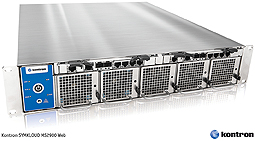 Kontron announced the SYMKLOUD series of cloud platform solutions, designed from the ground up to transform and simplify how providers of network equipment and cloud services deploy web-based, machine-to-machine (M2M), and mobile applications in cloud infrastructure. This exciting new introduction fills the innovation gap among a fractured market of commodity and cloud servers that disregard energy consumption, are over-sized in depth, and are too complex to efficiently scale and manage.
As an agile new entrant into the cloud computing space, Kontron drew inspiration from its extensive carrier grade and network server platform design experience to conceive of an entirely new concept dedicated to the real-world requirements next-generation data centers.
The result is the Kontron SYMKLOUD series of cloud platforms, a symbiotic and modular integration of switching, load balancing and processing, all into a low power and compact 2U, 21-inch deep design that supports five-nines High Availability.
Simplifying 42U rack and cluster configurations, the Kontron SYMKLOUD series requires 4 to 8 times fewer fiber and copper cables thanks to its integrated switching infrastructure. Its extensive power management adapts power consumption to the actual workload, as the platform dynamically powers up or down processors independently for significant energy savings. Its overall modular approach makes the SYMKLOUD series processor agnostic and capable of running multiple applications across multiple independent low-power, high-performance processors.
Be the first to see the live demo of the Kontron SYMKLOUD MS2900 Web, and other new cloud platforms, at the upcoming Mobile World Congress in Hall 5, Booth 5B45, February 25 – 28, 2013.
Availability of Kontron SYMKLOUD MS2900 Web: Eval Units Q1,13; Production Q2,13.
Kontron
www.kontron.com