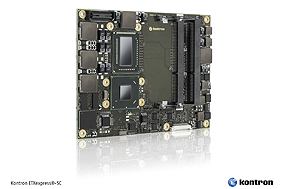 Parallel to the launch of the 2nd generation Intel Core processor family, Kontron introduced the COM Express basic form factor ETXexpress-SC Computer-on-Module. They are the first Computer-on-Modules with an Intel Core i7 2715QE quad-core processor, Intel Mobile QM67 I/O Hub and USB 3.0. Additionally, they feature the fastest Intel graphics on the market. The new Computer-on-Modules are available with the Type 2 or Type 6 Pin-out of the PICMG COM Express rev. 2.0 specification, increasing the speed of new designs and upgrades. With new features such as enhanced Intel Turbo Boost Technology, Intel Advanced Vector Extensions and Kontron Embedded Application Programming Interface (EAPI) middleware, OEMs will benefit from improved performance and simplified application development.
The Kontron ETXexpress-SC Computer-on-Modules integrate the new monolithic Intel microarchitecture with a CPU, graphics and ECC memory controller as well as a PCI Express controller all on an energy-efficient 32 nm die. First benchmarks show a performance gain of 205 percent for the CPU (Dhrystone Alu MIPS) and a 170 percent graphics performance improvement (3DMark06) as compared to platforms with the previous Intel Core i7 processor and comparable core speed. Additionally users benefit from a 20 percent performance/watt ratio improvement on average compared to designs with the previous Intel Core processor architecture. This enables new Computer-On-Module based applications, with an unmatched level of performance, to fit within a tight thermal envelope. Furthermore, with the new Intel iGFX Gen6 graphics, 2D and 3D graphics performance, now on par with dedicated graphics cards, is readily available. Applications that are built around the Kontron ETXexpress-SC will be able to simultaneously utilize two high-quality HD video streams, enabling economic multi-display solutions with one platform supporting several displays. Technologies, like the latest 3D BluRay for infotainment solutions, will also be supported. With PCI Express 2.0, the data transfer rates to external components are doubled as compared to previous solutions. The Kontron ETXexpress-SC features up to seven PCI Express lanes and the PCI Express graphics port (PEG) can be split variably into dedicated lanes (x8, x4, x1) to link extra peripheral components resulting in even more flexibility for the overall solution. This makes the new Computer-on-Module an ideal fit for feature-rich, graphics-oriented applications such as Digital-Signage servers running several displays, gaming systems and high-performance medical appliances.
"The new Kontron ETXexpress-SC Computer-on-Modules are now the most powerful COM Express modules available. Without exceeding the thermal boundaries of comparable forerunners, they offer more capacity, especially for applications that are graphics and compute intensive," explains Dirk Finstel, CTO at Kontron. "As a member of the Intel Embedded Alliance, we're able to present our customers with a product that's ready to go parallel to the launch of Intel's new processor technology. The standardized COM Express feature set and the support by Kontron EAPI, which extends the featureset of the compatible PICMG EAPI, enables our customers to make even more efficient use of this lead in time; regardless of technology changes. As a result, our customers save with respect to development time, lowering their development costs and getting their solutions to market more quickly."
The feature set in brief
The Kontron ETXexpress-SC is based on the Intel Mobile QM67 chipset combined with the Intel Core i7 2715QE processor with 2.1 GHz. Further dual core and entry level processor versions are scheduled. All versions will support up to 16 GB dual-channel DDR3 SODIMM RAM with ECC. The computing power and thermal needs of the new modules are extremely well balanced. With support for Intel Turbo Boost technology, the new modules can produce more computing power on peak loads. By using Intel Advanced Vector Extensions (Intel AVX), solutions built around the Computer-on-Module will experience faster floating-point operations and scalar calculations. The S5 eco microampere mode and the variable clocking of the graphics unit supported by the Kontron ETXexpress-SC save energy in low workload phases, thus contributing to an overall green solution. This is in addition to the onboard Intel 82579 GbE Ethernet controller that supports the new 802.3az standard for an energy-efficient Ethernet.
Based on the COM Express Type 6 Pin-out, the Kontron ETXexpress-SC is the first Kontron Computer-on-Module product to hit the market featuring three digital display interfaces for SDVO, DisplayPort, and DVI/HDMI besides VGA (2048 x 1536) and dual-channel LVDS (1600 x 1200). Optionally, customers can also upgrade two of the eight USB 2.0 ports to the SuperSpeed USB 3.0. The Type 2 Pin-out differs from Type 6 by offering PCI and PATA. SDVO, Display Port or DVI/HDMI is brought out by the Type 2 version with one DDI multiplexed with the PEG port. Both the Type 2 and 6 versions use VESA DisplayID to automatically indentify the connected displays, which simplifies integration. All versions feature 4x Serial ATA (2 x SATA II and 2 x SATA 3). Application developers that want to make use of leading edge SSD technology will benefit from the new SATA3 interfaces with 3 Gbit/s by full bandwidth and highest transfer rates. Furthermore, the new modules feature 1 x Gigabit Ethernet as well as Intel high-definition audio. In line with the terms of the COM Express Rev. 2.0 specification, the new Kontron ETXexpress-SC Computer-on-Modules offer a serial peripheral interface for external firmware boots. A trusted platform module is assurance of maximum data security with hardware-based encryption in real time which is required in many medical, military and gaming applications. Furthermore the new modules feature high-quality solid capacitators (POSCAP), increasing the thermal resistance and long-term stability. Support for a wide-range 8.5 VDC to 18 VDC power supply rounds out the features of the COM Express basic form factor ETXexpress-SC Computer-on-Module.
Standard operating systems such as Windows 7, Windows Vista, Windows XP, Windows Embedded Standard 7, Linux (including Red Hat Enterprise, SuSE, Red Flag, Wind River Linux) and VxWorks are supported. Kontron also offers COM Express Type 2 and Type 6 evaluation carrier boards. Samples of the new modules with Type 2 Pin-out will be available in Q1/2011. Type 6 versions will follow in Q2/2011.
For further details about the Kontron ETXexpress-SC go to: http://www.kontron.com/products/computeronmodules/com+express/com+express+basic/etxexpresssc.html
For further details about COM Express go to: http://www.kontron.com/COMExpress
For a white paper detailing the updates included in COM Express Rev. 2.0 specification, go to:
http://www.kontron.com/_etc/scripts/application/getcollateral.php?file=whitepaper_comexpresscom.0rev.2.0_en.pdf
http://www.kontron.com