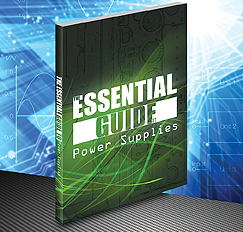 XP Power announced the publication of The Essential Guide To Power Supplies. Written as a technical guide for equipment design engineers and specifiers of power supplies, the 156-page guide is a reader-friendly reference for understanding all major aspects of AC-DC power supplies, DC-DC converters and their integration into today's electronic equipment. The guide outlines recent changes in legislation for safety and energy efficiency, including the new requirements for CE marking, the latest Level VI energy efficiency specification and the EU Code of Conduct. In addition, the guide gives details on the new IEC 62368 standard that replaced IEC 60950 in 2014.
According to Gary Bocock, the guide's author and XP Power's Technical Director, "The guide will be valuable to equipment designers at any level of experience. It combines an overview of basic power terms and concepts and in-depth design considerations for AC-DC power supplies and DC-DC converters."
Drawing on best practice and industry trends, the guide outlines methods of maximising the efficiency, reliability and lifetime of power supply products. These are incorporated in the green mode topologies and power supply de-rating sections.
The Essential Guide To Power Supplies is supplemented by technology editorials that provide practical information on understanding efficiency, cooling without a fan, removing heat from sealed enclosures and selecting power supplies for LED lighting applications.
XP Power
www.xppower.com