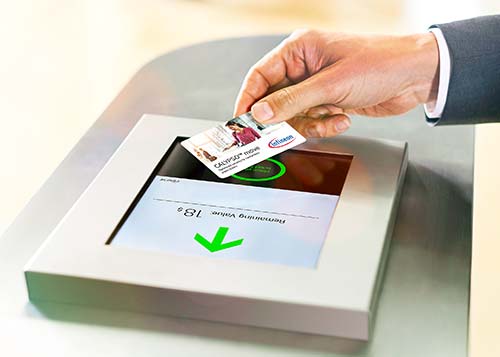 As cities grow, public transport operators must cope with ever-increasing numbers of passengers, especially during major events such as football matches and the Olympic Games. This, coupled with the need for sustainability and convenience, is creating a rapidly expanding market for digital ticketing and smart mobility. This transformation requires open standards that enable secured, convenient and interoperable ticketing solutions with the necessary transparency and trust. Infineon Technologies AG (FSE: IFX / OTCQX: IFNNY) addresses this development with CALYPSO™ move, the first secured memory for simple contactless ticketing based on the Calypso® basic specification. It allows manufacturers to meet the specific requirements of each transport operator and authority, avoiding the use of magnetic stripes, barcodes and proprietary tickets.
"An implementation must take into account numerous specifications developed independently by different companies within the transit community," said Tolgahan Yildiz, Head of Payment Solutions at Infineon's Connected Secure Systems Division. "However, to implement a convenient and secured digital ticketing infrastructure that meets stringent requirements, we need open standards, which Infineon is committed to. With CALYPSO move, we are enabling solutions that promote the transition to clean, safe and intelligent mobility across all modes of transportation."
Compliant with the Calypso® basic specification
The Calypso Networks Association (CNA) is a non-profit organization that brings together members of the transportation, mobility and services community to exchange ideas, experiences and requirements. Its goal is to promote open systems that support the seamless ticketing needs of consumers. CNA is the governing body for Calypso® technology; a proven, trusted technology standard for ticketing and access control that is used in over 29 countries and more than 170 cities worldwide with more than 100 million travel cards shipped in the five past years [1]. All Calypso® technology respects existing standards to enable seamless integration and support global interoperability.
Infineon's CALYPSO move is a perfectly suited for low-cost limited-use tickets (LUT). The secured memory is primarily intended for public transport applications. However, it may also comply with other potential use cases as specified by the CNA such as mass transit, payment and access.
"Because travelers' needs, expectations and behaviors vary widely, it is impossible to address them all with a single ticketing solution," said Paulo Barreto, Calypso® basic Project Manager of CNA. "That's why the Calypso® standard supports a broad product portfolio that meets the needs of all travelers, whether regular or occasional, in any configuration, media or system. To further drive the evolution of the digital ticketing market, we believe that this year will be the year of Calypso® basic."
Optimized security and low cost of operation
As part of the Calypso® infrastructure, CALYPSO move is based on open standards, avoiding vendor lock-in and contributing to fair competition and sourcing flexibility. The secured memory is ready to use and serves the low-cost paper ticket segment while meeting the high security requirements of transportation and access systems. In addition, terminal implementation and system upgrade costs are minimized as the solution is also compatible with existing Calypso® Automatic Fare Collection (AFC) systems. The memory is certified to the Common Criteria EAL2+ (Enhanced Basic) security standard, providing optimized security plus excellent contactless performance for tickets with limited life and usage.
Availability
Qualified samples of the CALYPSO move solution are available for design-in activities, as well as production capacity to support volume ramp-up. In addition, Infineon's technical team provides support with detailed documentation and training materials. More information is available at https://www.infineon.com/calypsomove.[1] Source: https://calypsonet.org/calypso-worldwide/