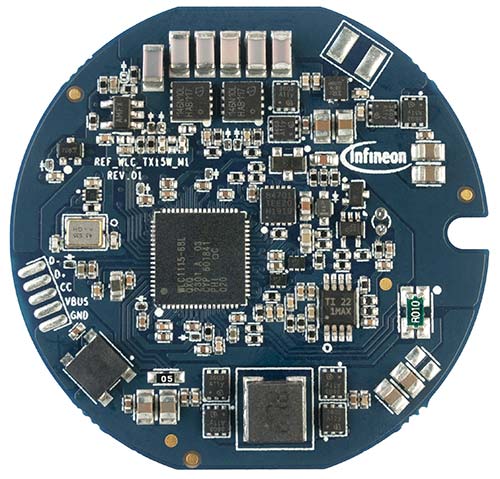 In response to the consumer demand for improved wireless charging user experience, the Wireless Power Consortium announced the release of a new standard to redefine the inductive wireless power transfer: Qi2. Infineon Technologies AG (FSE: IFX / OTCQX: IFNNY) addresses this demand by introducing its first Qi2 Magnetic Power Profile (MPP) charging transmitter solution, the reference design kit REF_WLC_TX15W_M1. The new MPP in Qi2 offers magnet-based fixed positioning with an intuitive user experience. This new standard guarantees significant benefits in automotive and consumer applications, such as in-cabin wireless charging, smartphones and EarPods cases, portable speakers, and healthcare equipment through better efficiency and safety.
The reference design kit is highly integrated and form factor optimized with a diameter of less than 43 mm, and a programmable wireless charging transmitter centered around an Infineon WLC1 controller. It demonstrates the capabilities of Infineon's Qi2-capable WLC1 which is already available on the market. The IC integrates a microcontroller (MCU) with Flash memory, a 4.5 V to 24 V DC input buck-boost controller, inverter gate drivers, and factory-trimmed current sensing. It features analog protection peripherals, USB PD, and LIN as well as serial interfaces enabling efficient and smart power delivery.
The REF_WLC_TX15W_M1 is supported with code examples in ModusToolbox™ to help users take advantage of the IC's configuration capabilities. The 15 W Qi2 MPP solution board is backward compatible with a basic power profile (BPP) that allows receivers without MPP support to wirelessly charge at 5 W. In addition, a multipath ASK demodulator and adaptive foreign object detection (FOD) are provided, making the design a robust and secure wireless power solution.
"With the emerging Qi2 standards, our programmable solutions offer the flexibility that the industry needs to adapt swiftly and offer differentiated features for automotive and consumer applications," said Ganesh Subramaniam, Senior Vice President and General Manager of the Wired Connectivity Solutions Product Line at Infineon.
The first public live demonstration of the wireless charging transmitter solution board will take place during Infineon's OktoberTech™ Silicon Valley. OktoberTech is the annual technology collaboration forum hosted by Infineon. This time it will take place in the computer history museum in Mountain View, California on 25 October.
See registration information here.
Availability
The WLC1 transmitter controllers can be ordered now: the WLC1515 for the automotive package and the WLC1115 for the consumer package. REF_WLC_TX15W_M1 solution board is available on demand. More information is available at www.infineon.com/qi2.