Integrated Device Technology, Inc. (IDT®) announced it has expanded its leading system-on-chip (SoC)-friendly PCI Express® (PCIe®) timing family with the addition of 1.5 V clock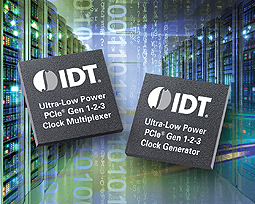 generators and clock multiplexers. The new devices join the previously introduced 1.5 V buffers to provide enterprise-level performance for space- and power-constrained designs. The chips offer up to a 90 percent reduction in power and board space compared to standard 3.3 V current-mode HCSL devices. The 9FGU clock generator family delivers two, four, six or eight outputs and is offered with and without internal terminations, giving the designer a choice of a flexible termination, or minimal board space with integrated terminations, for 100 ohm transmission lines.
All devices are pin-compatible with IDT's 1.8 V 9FGV PCIe G123 clock generator family.
The 1.5V 9DMU and pin-compatible 1.8V 9DMV clock multiplexers are two-input devices with either one or four outputs. These clock multiplexers are offered with a choice of external terminations or integrated 100-ohm terminations, and feature a choice of switchover modes. The user can choose between asynchronous switching or synchronous switching modes.
Integrated Device Technology
www.idt.com