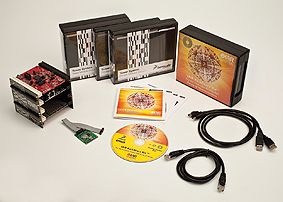 IAR Systems announced availability of a new IAR KickStart Kit for Freescale Semiconductor's ARM® Cortex™-M4 based Kinetis™ family of microcontrollers that is compatible with the Freescale Tower System development platform. This module-based kit allows rapid evaluation of and prototyping with the Kinetis microcontroller family in application areas such as industrial control, medical, and consumer electronics. It includes hardware boards, debug probe, software tools and code examples.
As part of the Tower System, this evaluation kit comes with the Kinetis K60 MCU module with on-board K60N512 32-bit microcontroller, a serial peripheral module with connectors for Ethernet, USB, CAN, and other connectivity. In addition, the Kinetis K60 MCU module includes capacitive touch pads, SD card slot, 3-axis accelerometer, buttons and a potentiometer. An additional prototyping module provides a large area where a wide range of applications can be evaluated.
Target connection is provided by the IAR J-Link Lite for Cortex-M debug probe that is included in the kit. It allows SWO debugging including SWO trace that can be used for execution time analysis and visualization of variables and interrupts in the debugger.
IAR Systems
www.iar.com