Renesas Electronics Europe, a leading supplier of advanced semiconductor solutions, officially announced that IAR Systems® industry-leading toolchain IAR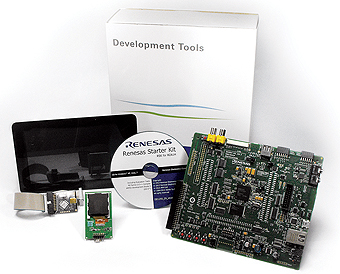 Embedded Workbench for ARM® has full support for the RZ/A1 "Renesas Starter Kit" (RSK) development suite.
A key differentiator of the RZ/A1 MPU is the abundance of up to 10MB of embedded SRAM. This is sufficient to remove the need for external RAM. Numerous customer benefits stem from this: hardware costs are reduced by moving from a 3-chip solution (CPU, Flash, RAM) to a 2-chip solution (CPU, Flash); software performance is increased because the RAM is connected directly to the internal bus, so there is no external interface delay; and designs can be simpler, more compact, and therefore get faster to market. Time-to-market can also be significantly improved by selecting the right tool chain and software partners.
Renesas is proud to announce that its RZ/A1 series of MPUs is fully supported by IAR Embedded Workbench for ARM, and an evaluation version of IAR Embedded Workbench for ARM can be downloaded at www.iar.com/ewarm. The RZ/A1 series of embedded microprocessors is a Cortex®-A9 based microprocessor, optimized for the Human Machine Interface (HMI) market. It supports up to WXGA (1280 × 800) displays, is able to drive two screens concurrently, and includes up to two camera inputs. RZ/A1 series MPUs also include all the connectivity for a standard application: for instance, 10/100 Ethernet, two channels of USB 2.0, and up to five channels of CAN.
IAR SYSTEMS
www.iar.com
RENESAS ELECTRONICS
www.renesas.eu