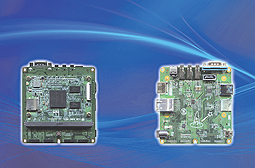 Future Electronics announced that it is stocking the Wandboard, a community-sponsored embedded development board offering a rich set of multimedia features. Customers can buy the Wandboard at the Future Electronics Web Store, or through any branch of Future Electronics. The Wandboard, which is based on Freescale Semiconductor's powerful i.MX 6 series multimedia processor, is available in single-core (Wandboard Solo) and dual-core (Wandboard Dual) versions. The Wandboard Solo is priced at $73.95 and the Wandboard Dual at $93.95.
The Wandboard is the product of a not-for-profit initiative that, like the Raspberry Pi, is aimed at providing a low-cost embedded development platform for students and hobbyists, as well as professional users. The advantage of the Wandboard, however, is that it has adopted a system-on-module architecture, using the open EDM standard to connect the module to a simple carrier interface board that provides common system functions such as power and communications interfaces.
This means that developers who need different hardware resources from those available in an off-the-shelf Wandboard module can easily and cheaply modify it, and create a new carrier board to fit their specific application. In doing so, they can draw on the wide choice of open-source community software already available, and so reduce the risk normally associated with customisation and development engineering.
The Wandboard provides a high-performance hardware platform, capable of running complex applications and demanding functions such as rendering high-definition graphics. The Freescale i.MX 6 series processor, which features ARM Cortex-A9 technology, supports Ubuntu and Android™, and the Wandboard itself supports mainline u-boot and Linux®.
Future Electronics
www.FutureElectronics.com