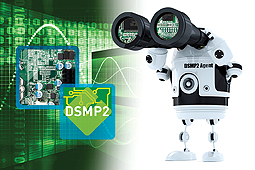 To monitor its industrial PCs and embedded systems, DSM Computer provides the DSMP2 hardware monitoring program that runs under the Microsoft® Windows® operating system. DSMP2 makes it possible to permanently monitor various hardware sensors, such as for the temperature and the fan speed, using SNMP (Simple Network Management Protocol) and issue SNMP traps when defined threshold values are exceeded. The software can be downloaded without charge from the DSM Computer home page.
The DSMP2 hardware monitoring program makes it possible to detect early any malfunctions of computers deployed in the industrial environment and so initiate appropriate measures immediately. This results in a significant increase of the reliability and the fault tolerance of the systems. The increased reliability reduces costs thanks to a status-oriented maintenance and the minimization of system downtimes. DSMP2 has been designed for the Microsoft® Windows® XP/7/8/Server 2008/Embedded 7 operating systems (and later). Any SNMP monitoring program, such as Nagios®, Icinga, HP OpenView and Microsoft® Operations Manager, can be deployed as central server.
DSMP2 uses SNMP to display all detected hardware sensors with their name, their current value, their average value and management information. The agent updates all values in a parameterized interval.
DSM Computer
www.dsmp2.com