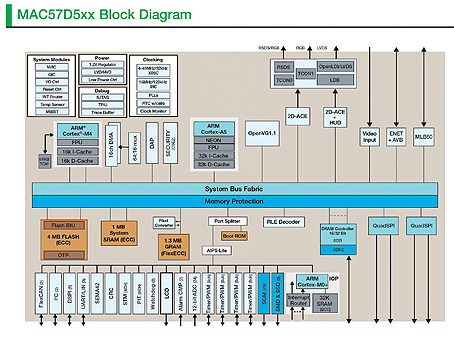 High-end automotive instrument clusters typically incorporate multiple external components, including a main processor, graphics unit, external SRAM, and dedicated circuitry to manage heads-up display warping and other sophisticated functionality. The cost and complexity of integrating these multiple parts previously restricted this functionality to the premium car segment.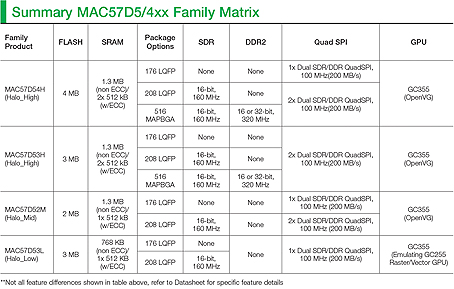 To drive heads-up display and other advanced graphics capabilities beyond the high-end and into the mid- and economy tier automotive segments, Freescale Semiconductor has introduced a triple-core, single-chip solution featuring more than 1.7x higher performance than any currently available automotive instrument cluster MCU. This high performance solution helps eliminate the need for costly additional processors and memory chips. In addition, the triple-core MAC57D5xx helps enhance safety by separating key instrument cluster hardware and software via concurrent operation of separate operating systems on each of the devices' three cores. Independent operation of an AutoSAR OS on the ARM Cortex-M4 core, and a graphics OS on the ARM Cortex-A5 core allows for enhanced safety in next-generation instrument cluster designs.
MAC57D5xx DIS MCUs are expected to begin sampling in June 2014.
Freescale Semiconductor
www.freescale.com