The distributor Rutronik Elektronische Bauelemente GmbH bundles its portfolio of embedded boards, storage, displays, wireless modules and auto ID components as well as specific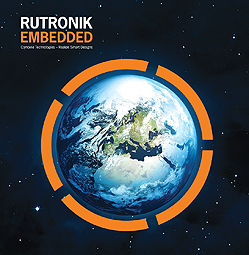 peripheral components under RUTRONIK EMBEDDED. 'Best-fit' kit solutions of board, memory and display offer optimally tailored solutions and a very short time-to-market. The comprehensive range of components is complemented by support from the component selection and production through to RMA / PCN / EOL services.
The distributor has summarised all specific components for embedded systems from its horizontal embedded boards, storage & displays, active, passive, electromechanical and wireless product areas under RUTRONIK EMBEDDED. Rutronik combines the respective components together to produce complete embedded solutions in accordance with customer requirements. The result is perfectly matched components for the customer's target application. The core components for Embedded Boards and Storage & Display are found in a joint Rutronik product area. They are also combined in various kit solutions as 'best fit' to facilitate a very short development time for customers. Application-specific wireless modules and auto ID components, sensors and actuators, processors, DC/DC and AC/DC converters, switches, wired connectivity, special connectors and sockets, thermal management solutions, open-frame power supplies and backup batteries are also available. Various products for different levels of integration, low end and high quality components as well as at least two manufacturers per product or product group provide customers with maximum flexibility for the implementation of demand-driven production and control systems.
The Rutronik product managers, special field application engineers and business development managers assist customers in selecting their components and during the design-in.
Rutronik www.rutronik.com