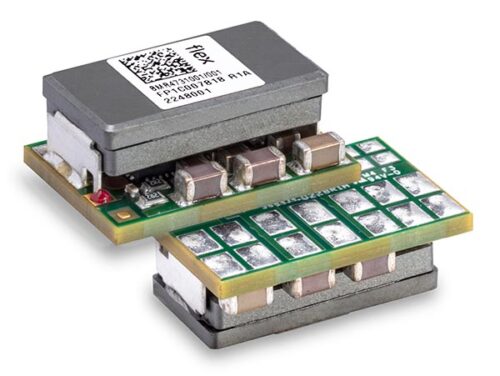 The BMR473 digital non-isolated PoL converter from Flex Power Modules is now available in a surface-mount format with solder bump terminations. This new mechanical version is also suitable for reverse mounting during reflow-soldering. Dimensioned just 19 x 13 x 7.5 mm, the device operates from 6 – 15 V input and provides a fully regulated output adjustable from 0.6 – 5 V at up to 40 A. Up to four units can be paralleled with synchronization and phase-spreading for a maximum of 160 A output. Efficiency of the single-phase BMR473 is high, peaking at 96.2% at 12 Vin and 5 Vout at full load, with minimal temperature derating required due to excellent thermal management and a 125°C maximum hot spot temperature.
The BMR473 includes remote control, a power good signal and configuration and monitoring via PMBus, and is compatible with the 'Flex Power Designer' GUI. Protection features include input under- and over-voltage, over-temperature and output over-voltage, over-current and short-circuit. Tight regulation, low output noise and fast load transient response round up the class-leading performance figures of the BMR473, along with over 30 Mhrs MTBF according to Telcordia SR-332 standard.
Olle Hellgren, Director Product Management and Marketing at Flex Power Modules comments "This new surface-mount version of our BMR473 PoL regulator will be a welcome addition to customers in telecom and datacom who will see the benefits of automated placement and a low profile".