Exar Corporation announced a new family of USB to serial bridge devices for industrial applications. The XR21B142x family provides a convenient and straightforward way to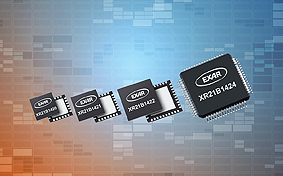 interface with RS-232 or RS-485 serial networks through USB using a minimum of components and PCB space. The XR21B1420, XRB21B1422, and XRB21B1424 provide 1, 2, and 4 UART channels respectively. The XRB21B1421 provides a single channel UART and uses the native operating system HID (Human Interface Device) driver.
The XR21B142x devices are fully compliant to the USB 2.0 (Full-Speed) specification with 12Mbps USB data transfer rate, and deliver significantly higher data throughput compared to competing devices, especially when multiple channels are operating simultaneously. Large 512-byte transmit (TX) and receive (RX) FIFOs enable a maximum data throughput of 9Mbps across up to four UART channels.
The XR21B142x family offers industry-leading ±15kV Electro-Static Discharge (ESD) protection on the USB pins, eliminating the need for additional protection components and reducing PCB real estate. This makes these devices ideal for rugged applications such as smart grid data collection, data aggregators and concentrators, security and access control systems, ATM and gaming terminals, and rugged USB to serial converters. The devices feature an internal oscillator, removing the need for an external crystal, further reducing the board area consumed. The devices can be powered directly from the USB host's 5V supply and an integrated LDO provides a regulated 3.3V power supply output, removing the need for an external LDO.
Exar
www.exar.com