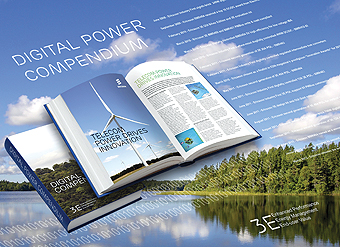 Ericsson has announced the most complete and authoritative collection of technical papers on advanced digital DC/DC power technologies available today. The 'Digital Power Compendium' comprises more than 450 pages and includes Ericsson's key technical papers on digital power and detailed specifications of the company's comprehensive and industry-leading range of advanced bus converter and point-of-load DC/DC conversion products.
This remarkable and substantial document will deliver highly valuable and educational material for power communities in both industrial and academic fields. The Digital Power Compendium will enable designers and students to learn and build upon the possibilities offered by digital power technology and make a significant contribution in reducing energy consumption.
A Short History of Digital Power
By the turn of the millennium, conventional power solutions were reaching the limits of energy efficiency for Information and Communication Technologies (ICT) systems. Power design architects needed to contemplate new techniques and seek innovative power solutions that could be fully integrated within the overall digital chain, making it possible to monitor and control board power and reduce the overall energy consumption of telecom equipment.
Ericsson took on the challenge and began its research into the possibilities of digital power in the early part of the last decade, presented the first fruits of its R&D at the Darnell Power Forum in 2006 and in 2008 launched the BMR453, the industry's first fully digitally controlled and PMBus-compliant DC/DC converter.
Since then digital power has progressed from being an embryonic technology with enormous potential for the 'early adopter' to becoming the reference power technology in new ICT equipment for the 'early majority'.
The First of its Kind
"The Digital Power Compendium is first of its kind in the industry," said Patrick Le Fèvre, Marketing and Communication Director of Ericsson Power Modules.
"It narrates a story of innovation and represents the very best of Ericsson's R&D activities in digital power. It has the potential to energize a new generation of power designers and further accelerate the adoption of digital power, leading to the significant reduction of energy consumption and CO2 emissions in ICT applications."

The Best of Digital Power
The compendium is the result of close cooperation with early adopter customers and the selection of the very best technical papers available from the Ericsson Power Modules database; specifically those that offer the most relevant, important and easy-to-grasp information about digital power technologies.
Ericsson Power Modules
www.ericsson.com/powermodules