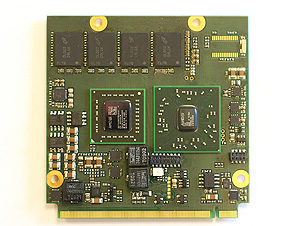 In parallel to the launch of the new 6.4 and 5.5W AMD Embedded G-Series APUs, datakamp System GmbH & Co. KG has integrated the AMD Fusion APU architecture into its product range with a new Qseven form factor computer-on-module Q7bd-GT40N.
The AMD Embedded G-Series platform combines a low-power CPU and a discrete-level GPU into a single embedded Accelerated Processing Unit (APU). In an APU the performance of the CPU core can be increased by the parallel computing performance of the GPU.
Apart from the high-performance DirectX-11 capable graphics, computationally intensive tasks can now be seamlessly transferred to the graphics processing unit. By offloading from the CPU, the overall performance of the APU can be significantly increased. The software development for the graphic and SIMD units is simplified by standard application programming interfaces such as OpenCL, OpenGL, Direct2D and DirectCompute.
"Computer-on-modules such as the extremely compact new Qseven model from datakamp are an ideal application for small form factor (SFF) processor platforms like our newest low-power AMD Embedded G-Series APUs," said Buddy Broeker, director, Embedded Solutions, AMD. "With computer-on-modules, OEMs benefit from a validated COTS component for flexible system designs with individually configurable I/Os. Engineers may benefit from the scalable module concept with reduced development efforts and short time to market."
Qseven computer-on-modules integrate all the core components of a common PC and are mounted onto an application-specific carrier board. Qseven modules have a standardized form factor of 70mm x 70mm and are based on the high speed MXM system connector that has a vendor independent standardized pinout. The Qseven module provides the functional requirements for an embedded application, which includes PCI-Express, graphics, sound, mass storage, network and multiple USB ports. A single ruggedized MXM connector carries all I/O signals of the Qseven module for communicating with the carrier board.
"The low power AMD Embedded G-Series Accelerated Processing Units, which feature power rating as low as 5.5W, are a perfect fit for SFF applications in vertical markets such as medical and automation. Applications engineers profit from long-term availability and a graphics engine that is joined with the CPU and can be also used for demanding parallel computing tasks, such as those found in medical analysis," says Wolfgang Kamp, CEO of datakamp.
The baseboard designer can determine how each of the provided functions is physically implemented. Connectors can be placed precisely on a baseboard wherever they are best suited in the specific application, to optimally fit the system configuration and layout.
datakamp System GmbH & Co. KG
www.datakamp.de