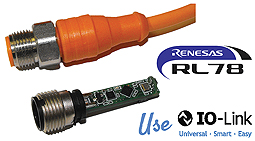 Renesas Electronics Europe announced the upcoming release of a reference design for small scale IO-Link smart industrial sensors. The solution is the result of a close cooperation between Renesas Electronics Europe and its business partners TMG Technologie und Engineering and Maxim Integrated. The hardware platform of the new IO-Link solution combines Renesas Electronics' RL78, its 16-bit ultra-low power microcontroller, an IO-Link transceiver and a miniature sensor from Maxim Integrated. TMG TE completes the solution from the software and applications side with its IO-Link v1.1 device stack operating on the microcontroller.
Renesas introduced the first integrated solutions for both IO-Link devices and master modules in the industry.
The company continues to lead in innovation by working with experts in the automation field to develop new concepts for flexible and highly efficient solutions.
These activities enable IO-Link technology to be used for the enhancement of sensor networking in an increasing smart and automated world.
The IO-Link protocol is an open standard according to IEC61131-9, making use of conventional 3-wire sensor cables for the transmission of serial digital communications between sensors/actuators and industrial automation systems. IO-Link offers the following key benefits:
• Visibility down to field device level
• Automatic parameterisation and central data management
• Process, parameter and diagnosis data transmission over one bi-directional medium
• Remote configuration and commissioning
• Backward compatibility to current sensor switching technology
With this new solution, Renesas introduces the new RL78 microcontroller family in IO-Link applications and addresses the challenges met by designers wanting to bring smart and intelligent features to miniature sensors.
Renesas Electronics
www.renesas.eu