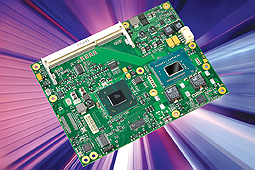 MSC Vertriebs GmbH has expanded its high-end MSC C6B-7S COM Express™ Type 6 module family based on third generation Intel® Core™ processors (Ivy Bridge) with cost-efficient Celeron® variants.
MSC offers MSC C6B-7S modules with three different Celeron® processors and integrated Intel® HD Graphics: The Intel® Celeron® CPU 1047UE with 1.4GHz has two cores and 2 MB cache. The single-core Intel® Celeron® 927UE (1.5GHz) integrates 1 MB cache. Both processors have a thermal dissipation power (TDP) of 17W. The cost-efficient dual-core Intel® Celeron® processor 1020E is clocked with 2.20GHz and has 2MB cache. The TDP is 35W.
The cost-efficient Celeron® modules integrate the Intel® HM76 PCH chip set. Dual-channel DDR3 SDRAM modules (two SO-DIMM sockets) with a maximum storage capacity of altogether 16GB can be plugged in.
According to the COM Express™ Type 6 specification, the MSC C6B-7S modules offer four USB 3.0 and USB 2.0 interfaces each. Besides the seven PCI Express™ ×1 channels, the modules are equipped with a PCI Express™ graphics (PEG) ×16 interface, HD audio and a Gbit-Ethernet interface. For the connection of high-resolution displays, the modules allow for direct access to the digital display interfaces DisplayPort and HDMI with a resolution of up to 2560 × 1600 pixels. Data can be stored via four SATA II channels at up to 300 MB/s or on a NAND flash SSD that can be optionally populated. An on-board plug for a speed-controlled fan on a special cooling solution permits the implementation of quiet systems for environments that are sensitive to noise.
MSC Vertriebs
www.msc-ge.com