Mouser Electronics, Inc. is now shipping the Freescale® MWCT 1000CFM and MWCT1101CLH wireless charging ICs. These devices are Freescale's cutting edge solutions for single coil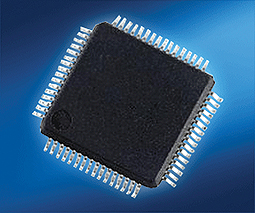 wireless charging transmitter applications.
The new MWCT1000CFM and MWCT1101CLH wireless charging ICs available from Mouser Electronics integrate all the necessary functions for a WPC Qi compliant wireless charger design. They work with any low power single-coil transmitter that is used to wirelessly communicate with the mobile device to be charged. Once a mobile device is detected, the wireless charging IC communicates with the device to determine its charging parameters. It then adjusts the wireless charging rate by using the proper operating frequency for that mobile device. These wireless charging ICs support the latest foreign object detection (FOD) safety feature to ensure that power transfer is not applied to foreign objects. This prevents overheating of misplaced foreign objects placed near the charging coil. Other safety features include over voltage, over current, and temperature protection. Pins are available for an external LED and buzzer for system status indication. These devices boast a low Run current of 30mA and low standby current.
Mouser
www.mouser.com