RIoTboard launches community website for developers based on its open source development platform.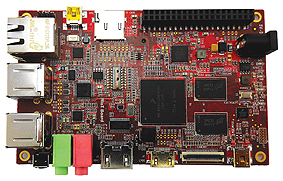 RIoTboard.org, the official community website for RIoTboard – the open source development platform based on Freescale's i.MX 6Solo processor was launched on February 26th, 2014. Designed from the ground up, the RIoTboard delivers a fully-featured single-board computer that enables developers the freedom to design open-source projects demanding the processing power and expandability for applications like HD video, high-bit transcode and encode, gaming applications and real-time sensing.
RIoTboard.org community serves as the launching pad for innovative open-source projects to enable the Internet of Things (IoT). Designers are encouraged to join the RIoTboard revolution at RIoTboard.org, where they can buy, design and register their projects, as well gain quick access to getting started video tutorials, technical resources such as full schematics, software on both Linux and Android, and join the online community of passionate RIoTboarders. Priced at $74 (USD), the RIoTboard is available from Farnell element14 in Europe, Newark element14 in North America and element14 in APAC.
David Shen, Chief Technology Officer at Premier Farnell said: "For the electronics industry, IoT is the single most important trend that will globally boost the market and lead a new stage in its history. As a disruptive technology, IoT will impact almost every segment of the economy and society, with many analysts forecasting the IoT market to be worth somewhere between $14 and $33 trillion in just a few years. "The RIoTboard is the latest in our ever-expanding range of solutions, offering everything from starter kits to complete development boards, including the newest releases and exclusive bundles."
Farnell element14
http://uk.farnell.com/riotboard