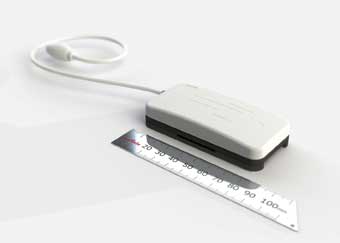 Murata announced two MEMS sensor products that use ballistocardiographic (BCG) techniques to detect and measure a patient's heart rate without the need for any wires or connections. Designed for continuous patient monitoring at elderly care centres, hospitals or in the home, the SCA11H sensor node and SCA10H sensor module can also be used in a wide range of applications such as bed occupancy monitoring and sleep quality analysis.
With ballistocardiology, an extremely sensitive MEMS sensor is used to detect the recoil effect of the heart pumping blood around the body. When lying on a bed the entire bed will start to vibrate due to this movement. The MEMS accelerometer captures this signal which is then passed to a microcontroller running a special algorithm. This allows the microcontroller to extract heart rate and other vital signs information from the signal.
The SCA10H is a PCB module comprising the sensor and microcontroller that is designed for medical devices and equipment manufacturers to incorporate into their own products and even into a hospital bed. This module measures just 28 × 26 × 7 mm and requires a supply voltage in the range 8 to 10 VDC. It consumes 8 mA and can detect pulses in the range of 40 – 120 bpm.
The SCA11H sensor node is a complete BCG-based product that comprises the sensor, microcontroller and a Wi-Fi transceiver all housed in an IP55-rated waterproof enclosure that measures 84 × 41 × 18 mm. This is ideal for software solution providers and system integrators that wish to focus on service creation rather than become involved in designing electronic systems. The Wi-Fi transceiver is capable of operating in either a local mode or a cloud mode. The local mode is used for presenting and processing data in a local network using a mobile application while the cloud mode enables connection to a cloud service architecture. The sensor node also supports over-the-air (OTA) firmware upgrades.
A software development tool kit (SDK) will be available for the SCA11H Wi-Fi sensor node to aid developers integrate it into their own applications.
Both sensors can output a range of vital signs including heart rate (bpm), respiration rate (rpm), heart rate variability, relative stroke volume together with bed occupancy / movement sensing, but are not qualified or approved as such for medical use. OEMs manufacturing system are responsible for potential medical approvals required in their specific use.
The SCA11H and SCA10H will be showcased at the Murata booth 8BK17 during the forthcoming MEDICA/COMPAMED exhibition in Düsseldorf, 16 – 19 November.
Murata
www.murata.com