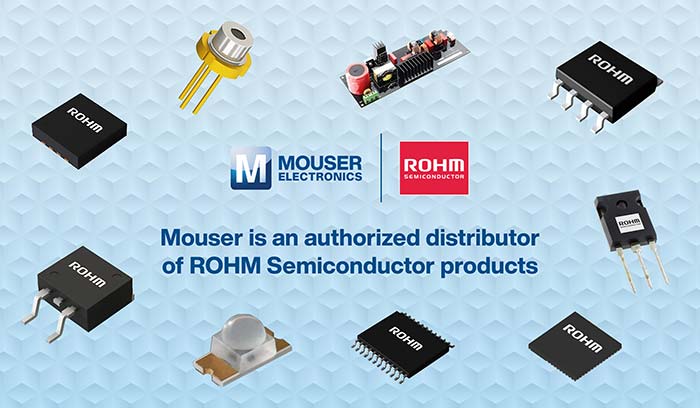 Mouser Electronics, Inc., the authorised global distributor with the newest electronic components and industrial automation products, is an authorised global distributor of solutions from ROHM Semiconductor, an industry leader in large-scale integration (LSI), discrete components and module products utilising the latest in semiconductor technology. With over 13,000 ROHM products in stock or available to order, Mouser offers a wide portfolio of ROHM solutions, adding new products every day.
Since 1990, Mouser has offered an ever-broadening selection of the newest solutions from ROHM, including semiconductors, integrated circuits and other electronic components. These components find a home in the dynamic and ever-growing wireless, consumer, automotive and industrial electronics markets. The following are just a few of ROHM's recent products available from Mouser:
ROHM Semiconductor's BD9S402MUF-C buck DC/DC converter with built-in MOSFET is designed for automotive applications such as infotainment and Advanced Driver Assistance Systems (ADAS), incorporating onboard sensors and cameras that are becoming more advanced. The IC supports output voltages down to 0.6 V and 4 A output current at switching frequencies higher than 2 MHz in a compact size demanded by increasingly sophisticated secondary power supply applications for high-performance microcontrollers and SoCs
The GNP1070TC-Z and GNP1150TCA-Z EcoGaN™ 650 V E-mode GaN FETs deliver industry-leading figures of merit, translating to higher efficiency in power supply systems. At the same time, a built-in ESD protection element improves electrostatic breakdown resistance up to 3.5 kV, leading to higher application reliability. GaN HEMTs' high-speed switching characteristics also contribute to greater miniaturisation of peripheral components. These devices are ideal for a broad range of power supply systems in industrial equipment and consumer devices, including servers and AC adapters.
The BM3G0xxMUV-LB Nano Cap™ EcoGaN 650 V GaN HEMT Power Stage ICs provide an optimum solution for electronics systems that require high power density and efficiency. Integrating the 650 V enhancement GaN HEMT and silicon driver in ROHM's original package significantly reduces parasitic inductance caused by PCB and wire bonding compared to traditional discrete solutions. The BM3G0xxMUV-LB GaN HEMT Power Stage ICs are supported by the BM3G0xxMUV-EVK evaluation boards, also available from Mouser.
The BV1LExxxEFJ-C and BM2LExxxFJ-C 1- and 2-channel 40V intelligent low-side switches are AEC-Q100 qualified, making them suitable for systems such as car body control, engine/transmission control units, LED lighting modules, and industrial programmable logic controllers (PLC). Integrated over-temperature, over-current and over-voltage protection functions along with diagnostic features and MCU feedback deliver enhanced performance, reliability, and lifetime and over discrete solutions.
Mouser has also collaborated with ROHM Semiconductor to create eBooks as a resource for design engineers. In Light Up Your Industrial IoT Design, leading experts from ROHM and Mouser offer in-depth articles covering a range of topics, including efficient power consumption, Wi-SUN wireless communication modules, and industrial IoT LEDs. In Driving the Future of Automotive Solutions with ROHM, subject matter experts from Mouser and ROHM provide technical insights into applications surrounding vehicle electrification, such as power management, lighting and motor control.
To learn more about ROHM Semiconductor, visit https://eu.mouser.com/manufacturer/rohm-semiconductor/.