Atollic® announced that its award-winning IDE, Atollic TrueSTUDIO®, has been selected by Freescale as one of only 4 professional embedded development tools designated as a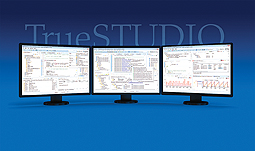 featured IDE for Kinetis MCUs.
By virtue of being based on Eclipse and using the GNU collection of development tools, Atollic TrueSTUDIO is believed to offer the easiest migration path for customers who wish to upgrade from their legacy Eclipse/GNU tools such as CodeWarrior Developer Studio for Microcontrollers to something more powerful and modern. Also, Processor Expert software, Freescale's software configuration tool, is an Eclipse plug-in that will easily install and run within Atollic TrueSTUDIO.
Providing the widest feature set of any professional embedded integrated development environment (IDE) available on the market, Atollic TrueSTUDIO has many powerful features such as parallel compilation, RTOS aware debugger with a built-in crash analyzer, and support for multicore and multiprocessor debugging. Event, data and instruction tracing, real-time variable watch view, MISRA-C checking, code complexity analysis and source code review features are also included as standard. Target support is provided for Freescale's comprehensive portfolio of ARM-based solutions including Kinetis MCUs based on ARM Cortex®-M cores, Vybrid controller solutions built on Cortex-M and Cortex-A cores and i.MX applications processors based on Cortex-A cores.
Atollic
www.atollic.com