Mouser Electronics, Inc. is now shipping the new MAXREFDES16 Novato Reference Design board from Maxim Integrated. This reference design provides a complete signal chain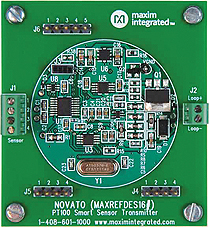 solution for wirelessly transmitting remote temperature information.
The new maxim MAXREFDES16 Novato Reference Design board available from Mouser Electronics is a highly accurate 16-bit temperature transducer system that wirelessly transmits remote temperature information to a central control unit over a 4 to 20mA current loop. Data is transmitted by a loop powered HART® (Highway Addressable Remote Transducer) enabled smart transmitter. The Novato reference design uses the Maxim MAX11213 16-bit ADC to measure the resistance of the 2-, 3-, or 4-wire Resistance Temperature Detector (RTD) sensor. The current loop transmitter is built on the MAX5216 14-/16 bit DAC and the Maxim MAX9620 High-Efficiency 1.5MHz Op Amp. Calibration is easy by using the free Novato calibration software and the included USB-to-UART programming adapter.
The Maxim DS8500 HART modem chip meets HART Protocol Compatible physical layer requirements by providing the board's digital interface to the HART protocol with a 4-20mA current loop. The Maxim MAX15006 40V Ultra-Low Quiescent-Current Linear Regulator and Maxim MAX6133 3ppm/°C, Low-Dropout Voltage Reference provide power and reference voltage to the entire circuitry.
The Novato reference design board provides a low-power, easy-to-use, reliable temperature measurement solution with a measured temperature range of -200°C to +850°C. Accuracy is better than 0.1% or 1.0°C, whichever is more accurate, over the entire operating range.
Mouser Electronics
www.mouser.com
Maxim Integrated
www.maximintegrated.com