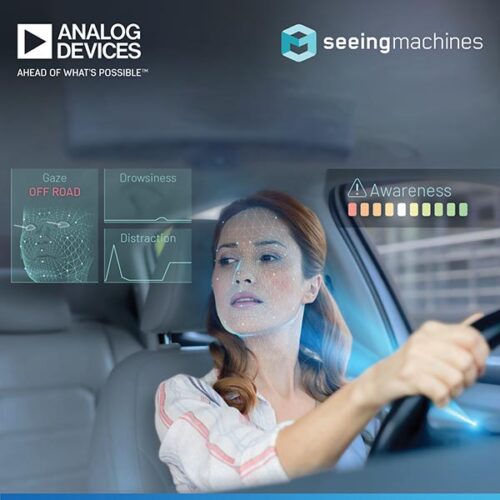 Analog Devices, Inc. (Nasdaq: ADI), a global semiconductor leader, and Seeing Machines (LSE:SEE), an advanced computer vision technology company that designs AI-powered operator monitoring systems to improve transport safety, announced a collaboration in support of high-performance driver and occupant monitoring system (DMS/OMS) technology on January 3, 2023.
Long-haul driving and congested traffic are two scenarios where driver fatigue and distraction often occur and frequently cause accidents, resulting in injury or worse. New and sophisticated advanced driver assistance systems (ADAS) are rapidly evolving to support safety across increasing, varied levels of autonomous capability.
The collaboration pairs ADI's advanced infrared driver and high-speed Gigabit Multimedia Serial Link™ (GMSL) camera connectivity solutions with Seeing Machines' artificial intelligence (AI) DMS and OMS software to support powerful eye gaze, eyelid, head, and body-pose tracking system technology that more accurately monitors driver fatigue and distraction. The combined solution will readily meet European Commission General Safety Regulations (GSR) and European New Car Assessment Program (Euro NCAP) requirements. It is also conducive to enabling future occupant monitoring features and a range of in-cabin camera placement options, previously unworkable due to challenges related to power efficiency, functional safety, hardware footprint, and image quality.
Semi-autonomous driving systems rely on in-cabin DMS and OMS to recognize and address driver fatigue and distraction. These systems must operate in all lighting conditions and require proper infrared lighting to ensure image quality on a frame-by-frame basis necessary for eye tracking in real time. The combined solution from ADI and Seeing Machines leverages ADI's industry-first infrared driver for DMS and OMS, capable of delivering up to 100W of peak power in a compact and functionally safe solution. This allows for a non-intrusive, smaller camera module in a vehicle's cabin.
Seeing Machines' AI software interprets signals from the optical hardware, monitors and diagnoses the problem, and combines with ADAS features to enable output signals to warn drivers and vehicle occupants when necessary.
"Seeing Machines exists to get people home safely, and our work with ADI aims to support semi-autonomous driving with increased safety levels to deliver what we call 'supervised automation'," said Nick DiFiore, SVP and GM of Automotive at Seeing Machines. "ADI's proven automotive-grade, near-infrared drivers and GMSL devices enable a sophisticated optical path to provide critical illumination and high-speed video bandwidth for real-world and real-time processing of interior cabin environments."
"Cabin monitoring is complex and requires careful integration of infrared illumination, image capture, data processing, and algorithm layers to achieve a real-time response," said Yin Wu, Director of Automotive Product Line Management at Analog Devices. "Together with Seeing Machines, we are supporting the automotive industry with pragmatic solutions to help reduce collisions and save lives."
ADI's Automotive Electrification and Cabin Experience Solutions
ADI's innovations are making a positive planetary scale impact in automotive electrification and experience. By leveraging technology synergies across Automotive and Sustainable Energy, ADI aims to accelerate the transformation of mobility and the grid towards Net Zero emissions. ADI is also enabling the Digital Cabin and Safe Mobility revolution through its technology leadership in Audio Processing, Data, and Video Connectivity platforms which are advancing consumer applications and safety-critical ADAS in the vehicle. Our leadership in Battery, Power, and Energy Management solutions enables high performance, reliable, and safe operations across the entire electrification ecosystem—including EVs, Energy Storage Systems, the Clean Energy Grid, and more. With a focus on measuring and advancing sustainability at every step, our innovations in software and wireless technologies allow for localized real-time mission-critical decisions to enable Intelligence at the Edge.