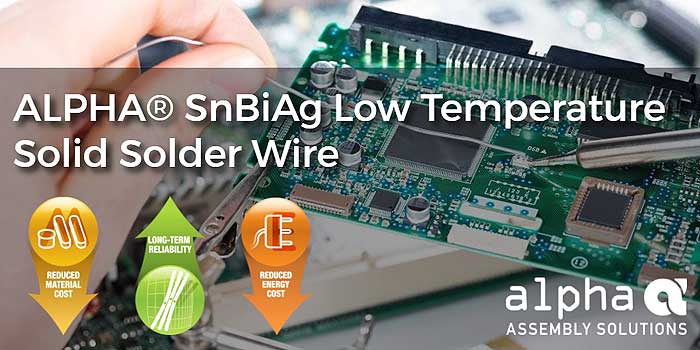 Alpha Assembly Solutions, the world leader in the production of electronic soldering and bonding materials, has introduced a low-temperature solid solder wire that demonstrates long-term reliability while enabling the use of less expensive PCB materials.
ALPHA® Sn42 Bi57.6 Ag0.4 is a lead-free solid solder wire primarily used for rework operations and touch up soldering of low temperature based electronic assemblies.  Compatible with all commonly used lead-free surface finishes, this low temperature solution is ideal for soldering sensitive components or connectors.  It is available in various wire diameters (min: 0.6mm) and is more versatile than SnBiAg alloy solid solder sticks.
"The ability to use low temp compatible components and low Tg PCBs leads to a reduction of waste and scrap that can lead to a significant savings in material costs, said Bernice Chung, Global Product Manager for Solid Solder Wire at Alpha Assembly Solutions, a part of the MacDermid Performance Solutions Group of Businesses. "The SnBiAg alloy allows us to reduce exposure to thermal excursion during assembly, thereby eliminating the need for a wave soldering process which both increases long-term reliability and reduces energy costs."
This new soldering material from Alpha eliminates the need for additional reliability testing of solder joints reworked with an alternative alloy.
For more information on ALPHA® SnBiAg Low Temperature Solid Solder Wire or any other product or process technology, visit the Alpha website.
Alpha Assembly Solutions  |  www.AlphaAssembly.com