ADLINK Technology, a leading global provider of cloud-based services, intelligent gateways, and embedded building blocks for edge devices that enable the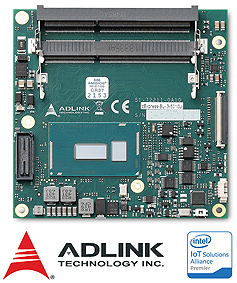 Internet of Things (IoT), announced its first COM Express Compact Size Type 6 module, the cExpress-BL, based on the 5th generation Intel Core processors i7-5650U, i5-5350U and 5th generation Intel Core i3-5010U processor (codename Broadwell U), with support for up to 16 GB dual channel DDR3L memory. Featuring improved graphics and processing performance compared to the previous generation Intel processor, the cExpress-BL is suitable for fanless edge device solutions that demand intense graphics performance and multitasking capabilities in a space-constrained environment, such as digital signage for medical, transport and retail, or machine vision applications in factory automation.
"The ADLINK cExpress-BL is pin-to-pin compatible with the previous generation cExpress-HL module and facilitates system integrators with a seamless scale-up to 5th generation Intel Core processors are designed to lower development costs and reduce time to market," said Henk van Bremen, director of ADLINK's Module Computing Product Segment. "End customers can easily upgrade their equipment with minimized investment and get the most out of their existing infrastructure with excellent CPU and graphics performance, extended life cycle and maximized ROI."
"The new 5th generation Intel Core processor family built using Intel's latest 14nm process technology is designed to deliver excellent graphics and performance in a small thermal envelope, supporting the next generation of Internet of Things solutions," said Samuel Cravatta, IOTG Product Line Director. "With 5th generation Intel Core processors inside, edge devices can have stunning video performance and fast computing power in optimized cost modes for end users."
The ADLINK cExpress-BL features Intel HD Graphics 5500 and 6000 integrated in the CPU and provides two DDI channels (with up to 4K resolution) and one LVDS channel supporting three independent displays, enabling it to drive multiple HD screens without the need for a discrete graphics card. In addition, Embedded DisplayPort (eDP) is optionally available to support next generation displays. The cExpress-BL also provides high-bandwidth I/O, including four PCIe x1 or single PCIe x 4, four SATA 6 Gb/s, two USB 3.0 and six USB 2.0 for peripheral devices and data transfer. A wide range of operating systems are supported, including Linux, Windows 7 and 8.1u, Windows Embedded Standard 7, Windows Embedded Industry 8.1, and VxWorks. A complete range of COM Express engineering test tools accompany the cExpress-BL to expedite application development. These tools include the COM Express Type 6 starter kit, which allows customers to proceed with carrier board design and software verification simultaneously; the T6-DDI video adapter card, which provides easy access to the cExpress-BL's DDI ports; and the LPC POST debug board.
ADLINK Technology
www.adlinktech.com