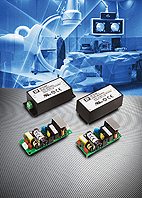 XP Power announced the EML30 series of 30 Watt single output ultra compact AC-DC power supplies designed for use in medical applications. The EML30 series has the smallest footprint and the highest power density in the industry when compared to other similar 30 Watt power supplies with medical safety approvals. Competitively priced, the versatile EML30 series also offers more mechanical formats and mounting options than the competition.
Factors driving the demand for this type of unit are the desire for, and the development of, smaller portable medical equipment. Accordingly, the EML30 will find favour with customers requiring medical safety approvals and where the power source needs to occupy minimal space. The EML30 is also ideal where the requirement is for a Class II input type power supply and where no ground / earth connection is needed.
The ultra compact EML30 is the smallest 30W medical power supply in the industry. The open frame PCB mount version measures a diminutive 75.2 × 34.6 × 26.7mm (2.96 × 1.36 × 1.05 inches), offering a power density of 7.1 W per cubic inch. Exhibiting versatility, the EML30 is available in a range of mechanical formats. There are open frame versions with either PCB mount or with connectors, encapsulated models with either PCB mount or screw terminals, and a DIN rail mount option. These make life easier for designers by providing multiple mounting options to best fit their end system.
XP Power
www.xppower.com