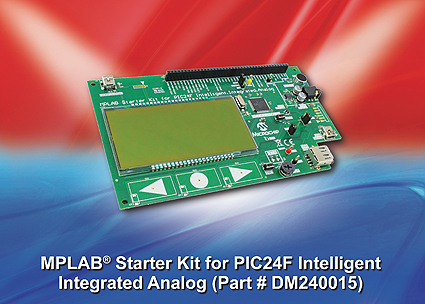 The MPLAB® Starter Kit for PIC24F (DM240015) Intelligent Integrated Analog is a comprehensive development kit featuring the PIC24F "GC" family of 16-bit microcontrollers. This family features advanced integrated analog which reduces BOM cost, lowers noise, and has faster throughput.
The board demonstrates these features of the PIC24 FJ128GC010 Microcontroller: direct LCD drive, 16-bit Sigma-Delta ADC, 12-bit Pipeline ADC, 10-bit DAC, Op-Amps, CTMU, DMA, USB, and XLP low power consumption.
The demonstration code includes: LCD display including scrolling text with icons, Sine wave audio output, Light Sensor, Temperature Sensor, Resistive Sensor, Watch Crystal based Time display, mTouch ™ User Input Control with Visual Feedback, Bar Graph display of sensor and microphone input, and data logging of 16-bit ADC data to USB drive. The board also features an analog connector designed to insert into a breadboard for easy access to analog peripherals, and an expansion area for adding RF connectivity. The board features an analog header, allowing clean analog signals to be accessed, preserving signal integrity. To complement the header, the board also features on-board sensors such as light sensor, potentiometer, microphone, temperature, and capacitive touch.
Additional features include USB Host and Device support, RF expandability, audio output via headphone jack, and on-board debugger/programmer.
• 16-bit Sigma-Delta Analog to Digital Converter
• 12-bit Pipeline 10 Msps Analog to Digital Converter
• 10-bit 1 Msps Digital to Analog Converter (2)
• Operational Amplifiers (2)
• Comparators (3)
• Voltage References (3)
• Charge-Time Measurement Unit (CTMU)
For the chance to win a MPLAB® Starter Kit for PIC24F Demo Board, log onto: www.microchip-comps.com/epdee-mplab-pic24f and enter your details in the entry form.