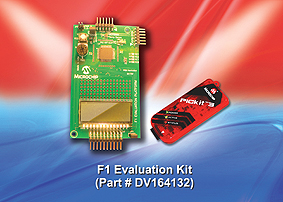 EP&Dee is offering its readers the chance to win a Microchip F1 Evaluation Kit, containing an F1 Evaluation Platform and PICkit3. The F1 Evaluation Platform is a simple development tool for Enhanced Mid-range PIC microcontrollers (PIC12F1XXX/PIC16F1XXX) and demonstrates the capabilities & low power enhancements of these new PIC microcontrollers. Included with a PICkit3 for quick programming, this kit provides a platform for general purpose development and gives you the ability to develop code for any PIC12F1XXX/PIC16F1XXX microcontroller. Quick & easy development is ensured with the integrated functionality including: prototyping area, LCD control, system current monitoring, temperature sensing, Real-Time-Clock, LED drive, button control, and BLDC motor control.
The kit includes a F1 Evaluation Platform, PICkit 3 In-Circuit Debugger, USB Cable, Platform & Demonstration Guide, Source code for included demonstrations and Board schematics.
For the chance to win an F1 Evaluation Kit, please visit: http://www.microchip-comps.com/epdee-f1 and enter your details in the online entry form.