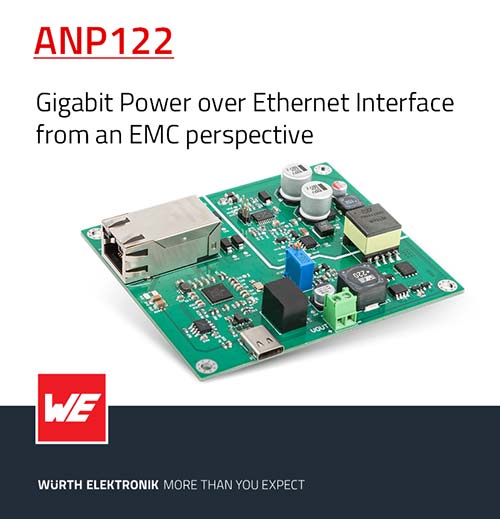 Würth Elektronik has published another Application Note on a special challenge in EMC. App Note ANP122 "Understanding a PoE Interface from an EMC Perspective" clarifies which electromagnetic interference must be taken into account for an Ethernet interface also used as a power supply. The application example is the RD022 reference design, in which Würth Elektronik has developed an industrial GB Ethernet USB adapter with integrated PoE functionality.
Devices with low power consumption (below 100W) networked via Ethernet can be supplied via 'Power-over-Ethernet' (PoE). Data transmission and power supply are realized with a network cable. With the RD022 reference design, Würth Elektronik presents a GB Ethernet USB adapter with integrated PoE functionality up to 25W. App Note ANP122, which is now available, takes an in-depth look at its electromagnetic behavior and provides design tips.
Getting a grip on interference
The Application Note explains the emission measurements from the reference design and compares them with the standard limit values. If the subsequently used device with PoE interface takes on larger dimensions or the secondary side is earthed, additional filtering is needed for the conducted emission. It can be seen that both conducted and radiated emissions are dominated by the isolated converter, while the emission from the digital circuit is negligibly small.
The App Note proposes an island concept to reduce emissions from the converter, whereby the interference from the isolated switching regulator is controlled better.
Besides describing the reference design, the paper also outlines the underlying EMC considerations of PoE: the EMC test setup, operating parameters, the influence of output voltage, output filter, the influence of different load resistors, input filters, optimization of conducted emission and interference immunity.