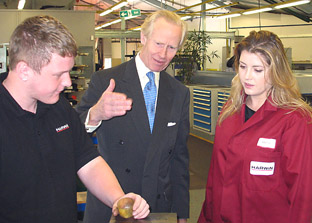 Harwin, the leading hi-rel connector and SMT board hardware manufacturer, was delighted to host a recent visit from Penny Mordaunt, its local Portsmouth North constituency MP. On a fact-finding mission to 'better understand the needs of the UK manufacturing industry', Ms. Mordaunt spent an instructive morning at Harwin's Farlington factory, being shown round by Harwin Chairman Damon de Laszlo and CEO Andrew McQuilken, when she took the opportunity of speaking with many company employees.
Commented de Laszlo: "It is gratifying that politicians are finally listening to the needs of industry and that the voices of SMEs such as Harwin are being heard. To ensure a continued and full recovery from the recent recession, manufacturers such as ourselves must be allowed to be competitive, free from unnecessary costs and restrictions. Politicians have a full responsibility to create an economic environment where enterprising businesses can succeed, and we are pleased that our local MP has taken such a keen interest in our activities."
Ms. Mordaunt was impressed by Harwin's technological capabilities and in its policy of large-scale capital investment, along with its apprenticeship programme. The company was also able to demonstrate its international presence, having recently returned from a highly-successful attendance at the major electronics event Electronica in Munich, where a record number of orders and enquiries were taken.
www.harwin.com