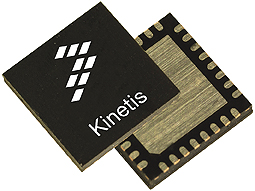 Freescale Semiconductor is now shipping its Kinetis KL02 family of 32-bit microcontrollers (MCUs), offering a new level of processing performance and energy efficiency for a range of applications and helping expand the Internet of Things (IoT). The tiny KL02 devices have a small appetite for power – six times more efficient than a leading competitor – making them ideal for ultra-small-form-factor and battery-powered products.
Applications may include portable consumer devices, sensing nodes, wearable devices and even ingestible healthcare sensing. As more of these products add intelligence and become part of the IoT ecosystem, designers need to maintain a small footprint, in terms of size and power consumption, while also delivering a level of connectivity users have come to expect from more traditional connected devices, such as tablets and smartphones.
This announcement builds on the momentum Freescale has achieved with the Kinetis L series since its introduction in early 2012. The company currently has 66 Kinetis L series devices in its portfolio and expects nearly double that number this year. This expansion will provide application designers the industry's largest MCU portfolio based on the ARM® Cortex™-M0+ processor, offering more than 110 ARM Powered® MCU choices with the most package options and greatest scalability.
Freescale Semiconductor
www.freescale.com