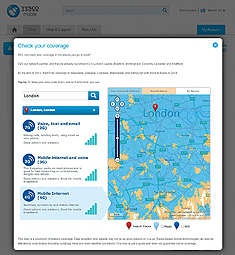 SpatialBuzz, an innovative cloud-based customer experience analytics and service monitoring platform for network operators, has announced that Tesco Mobile has launched its online coverage checker, a component of SpatialBuzz's cloud-based customer experience management (CEM) software solution. Introduced to coincide with the recent launch of Tesco Mobile's 4G service, the SpatialBuzz software provides customers with real-time access to detailed coverage maps for both 2G and 3G as well as for 4G.
The SpatialBuzz online coverage checker means that both existing and potential customers of Tesco Mobile will be able to check whether 4G coverage is adequate in their area before making a decision to purchase or upgrade to the new 4G service. Tesco Mobile is the UK's largest Mobile Virtual Network Operator (MVNO), with 3.5 million customers, working on the O2 network. Telefónica O2 has already been using the SpatialBuzz (CEM) software since 2010.
SpatialBuzz harnesses the power of customer experience analytics to enable operators to better understand service issues, by analysing in real time where customers and agents are performing network status checks.
SpatialBuzz
www.spatialbuzz.com