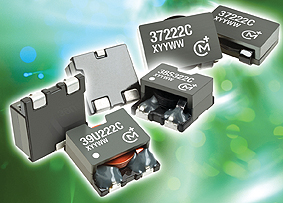 Murata Power Solutions announced three new series of surface mount inductors aimed at high current applications where low loss characteristics are essential. The 3700, 3800 and 3900 series are flat coil inductors that provide a wide range of inductance values from 0.15 to 10uH with DC current ratings up to 19.5A. These extremely compact surface mount devices, measuring just 14.5 x 11.5 x 5.8mm (0.571 x 0.453 x 0.228 inches) for the 37301C 0.3uH 19.5A part, are available with DC resistance values ranging from 0.9 to a maximum of 20.3mOhm ensuring that any voltage drop is kept to an absolute minimum.
The inductors are aimed at dc-dc power conversion applications where a high transient response is required. Examples include voltage regulator modules, notebook computers and plasma displays. They have an extremely wide range of operating temperature, from -40 to + 130degC that suits most environments.
All inductors are RoHS compliant and backward compatible with Sn/Pb soldering systems. They are supplied in tape and reel packaging.
Murata Power Solutions
www.murata-ps.com