Designers of electrical utility meters now have the flexibility to accommodate the G3-PLC™, Prime, and P1901.2 standards in the CENELEC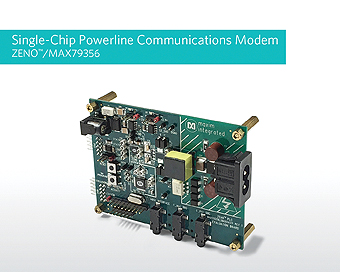 A, ARIB, and FCC frequency bands with a single chip, the ZENO™/MAX79356 powerline communications (PLC) modem system on a chip (SoC) from Maxim Integrated Products, Inc.
Powerline communication standards and frequency bands vary by region and country, and until now PLC modems could not support them all. Meter manufacturers had to develop multiple modems to ensure standards compatibility, or even pass up markets because they did not have the time or resources to develop new modems. That dilemma is now solved. The ZENO/MAX79356 PLC modem SoC is software configurable to accommodate all worldwide standards. Now manufacturers and utilities can use the same device to build meters and data concentrators for any region that wants to use powerline communication. This allows meter designers to bring their products to market faster and be prepared for future standards. In addition, the integration of the analog front-end (AFE) and baseband in a single chip reduces chip count and lowers expenses.
Key Advantages
• Versatile: software configurability supports today's PLC standards and will adjust for future standards; certified by the G3-PLC Alliance for all three major frequency bands (CENELEC A, ARIB, and FCC) and for PAN Device and PAN Coordinator
• Low power: uses 80% less power when listening for PLC communication (55mW vs. 300mW); active transmission power consumption is 70mW
• Space efficient: up to 3x smaller than other PLC modems.
Maxim Integrated
www.maximintegrated.com