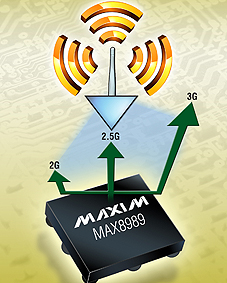 Maxim Integrated Products introduces the MAX8989, a step-down converter designed to power PA (power amplifier) modules in mobile phones. The first DC-DC converter in the industry to support power management for multiple communication protocols (e.g., LTE, WCDMA, GSM, and EDGE), the MAX8989 is ideal for converged (multimode) PAs. This solution is utilized in Infineon's proven SMARTi™ UE2 RF engine platform, which delivers unparalleled flexibility and efficiency to multistandard cellular phone systems.
The MAX8989 integrates a high-efficiency switching regulator with a parallel bypass LDO to guarantee maximum efficiency under all conditions. This approach enables designers to minimize the amount of power dissipated within the PA by regulating the PA's output stage supply voltage. By controlling the PA supply voltage to meet transmission-power requirements, designers can extend 2G talk time by up to 25% and 3G talk time by up to 10%.
The integrated LDO serves to smooth the transition between step-down regulation and operation in dropout, allowing for a seamless transition to higher power levels. When in dropout, the LDO becomes a low-impedance (85mΩ) bypass FET to ensure minimal power loss during periods of peak current demand. Additionally, the switching regulator is capable of a 100% duty cycle to further eliminate losses.
The MAX8989 supports up to 2.5A, making it an excellent choice for powering GSM/EDGE PAs. It is fully specified over the -40 C to +85 C extended temperature range, and offered in a compact (1.6mm x 1.6mm, 0.69mm max height), 9-bump wafer-level package (WLP). Prices start at $1.92 (1000-up, FOB USA). Samples and evaluation kits are available upon request.
www.maxim-ic.com