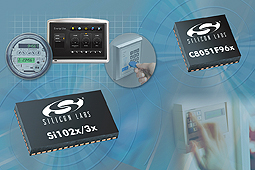 Silicon Laboratories Inc. introduced the industry's most energy-efficient microcontroller (MCU) and wireless MCU solutions for power-sensitive embedded applications. The new C8051F96x MCU and Si102x and Si103x wireless MCU families are based on patented low-power technology that enables 40 percent less system current draw and up to 65 percent longer battery life than competing MCU solutions. Designed to address the unique power requirements of battery-operated embedded systems, Silicon Labs' ultra-lower-power MCU families are ideal for smart metering (water, gas and heat meters), in-home utility monitoring, wireless security, home and building automation, portable medical and asset tracking products.
Embedded developers designing battery-powered systems, particularly those using wireless data links, require power optimization strategies that are tailored to their application needs. Silicon Labs has designed the new F96x 8-bit MCUs with these ultra-low power and wireless connectivity requirements in mind. The Si102x/3x wireless MCUs combine the power-saving features of the F96x MCUs with the company's EZRadioPRO® sub-GHz transceiver into a single-chip solution that is ideal for battery-operated embedded systems requiring both energy efficiency and industry-leading RF performance.
To achieve best-in-class low-power and wireless optimizations, Silicon Labs' F96x and Si102x/3x families offer three major system-level innovations:
• Superior energy transfer efficiency for battery-operated systems. Greater efficiency in transferring energy from the battery results in less energy lost as heat dissipation, which reduces system-level power consumption and extends battery life. The F96x and Si102x/3x families' on-chip dc-dc buck converter enables significantly higher efficiency in voltage conversion compared to a linear regulator, resulting in energy transfer efficiencies of up to 85 percent. The on-chip buck converter can supply up to 250 mW of power, providing energy not only for the MCU but also for other circuits in the system such as an RF transceiver. Silicon Labs is the first semiconductor company to integrate a power-saving dc-dc buck converter on an MCU, resulting in not only superior energy efficiency but also lower component count and BOM cost.
• Reduced time in active mode. Since MCUs use maximum power in active mode, the F96x and Si102x/3x devices incorporate several innovations to reduce the time spent in active mode. An on-chip Dedicated Packet Processing Engine (DPPE) with hardware acceleration blocks enables more than a fivefold increase in RF message processing speed and allows the CPU to remain idle during transactions, thereby reducing active time and the current load on the battery. The MCUs also include a low-power pulse counter that operates autonomously in sleep mode without CPU intervention. The on-chip pulse counter is especially useful in reducing power in utility metering applications that use pulse trains or switch closures while monitoring fluid flow.
• Reduced power in sleep mode. The new MCUs integrate the lowest power real-time clock (RTC) in the industry, enabling 40 percent lower power in sleep mode than competing MCUs. The MCUs achieve 400 nA sleep current with the RTC running and 70 nA sleep current (without the RTC) at 3 V. An ultra-low 10 nA sleep current mode is additionally available at minimum voltage. The MCUs also offer the industry's fastest wakeup time from sleep mode at 2 microseconds. As a result of these state-of-the-art low-power design techniques, systems based on the F96x and Si102x/3x families can support battery life greater than 20 years.
To learn more about the UDP and WDS software, visit www.silabs.com/UDP and www.silabs.com/WDS
Silicon Laboratories Inc.
www.silabs.com