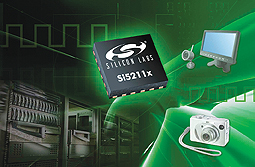 Silicon Labs has expanded its industry-leading PCI Express (PCIe) timing solution portfolio with new one- and two-output PCIe clock generators that offer the smallest footprint and lowest power in the market.
Designed to meet the stringent specifications of the PCIe Generation 1/2/3 standards, the Si52111 and Si52112 clock generator ICs target high-volume consumer, embedded, communications and enterprise applications where board space, power consumption and system cost are critical concerns.
Silicon Labs' Si5211x clock generators are especially well-suited for space-constrained, power-sensitive consumer electronics products such as digital still cameras that require industry-standard PCIe connectivity. Addressing the small form factor requirements of these consumer applications, the Si5211x clocks are available in a 3 mm × 3 mm 10-pin TDFN package – the smallest package available in the PCIe timing market. These ultra-low-power clock generators offer up to eight times lower current consumption (less than 15mA) than competing devices, making it easier for designers to meet green power regulations while enhancing system reliability. The devices also meet PCIe jitter requirements with up to 50 percent margin, enabling a lower bit error rate to further improve reliability.
In addition to offering power savings and improved jitter margin, the Si5211x clock generators use an innovative push-pull output buffer technology. Compared to existing solutions in the market today, the Si5211x PCIe clock generators integrate all termination and reference resistors on chip, eliminating the need for additional external components.
Silicon Labs
www.silabs.com/pci-express-clocks