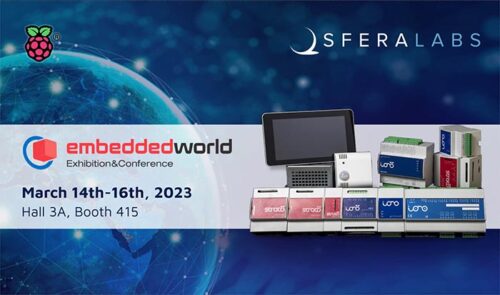 Sfera Labs, the Italian-based company that designs, manufactures, and sells servers, embedded systems, I/O modules, and sensors for industrial automation, IoT and edge computing is excited to announce its participation in Embedded World 2023 – The annual trade fair and conference for embedded systems technology is set to take place in Nuremberg, Germany, from March 14th – 16th, 2023.
This year, Sfera Labs will be exhibiting at the Raspberry Pi stand (Hall 3A, Booth 415), where it will showcase its latest products and solutions to a broader audience. Attendees at the event will have the opportunity to learn about Sfera Labs' products and see how they can be used in real-world applications. The Sfera Labs team would like to thank our friends at Raspberry Pi for hosting their products at Embedded!
Sfera Labs' commitment to innovation and its dedication to providing high-quality, customizable, and user-friendly products have made it a valuable partner of Raspberry Pi. The ongoing collaboration and innovation between the two companies provide developers and users with the tools and resources they need to create robust and reliable embedded systems in a wide range of applications, including building automation, environmental monitoring, and machine control.
Embedded World attracts engineers, designers, developers, and executives from companies that manufacture, supply, or use embedded systems and components, providing an excellent opportunity to showcase the latest products, technologies, and innovations.
Embedded World's comprehensive conference program covers a broad range of topics, including artificial intelligence, edge computing, embedded security, and industrial IoT. Sfera Labs' participation in this event is a testament to its commitment to innovation and becoming a reference for industrial automation products and services based on innovative, widespread, open-source, community-supported technologies.
For those attending Embedded World 2023, make sure to visit the Raspberry Pi stand to learn more about Sfera Labs' products and solutions. You can also follow Sfera Labs on social media to stay up to date with their latest news and updates.