Kontron Box-PC makes Wattics' energy analytics system maintenance-free.

Although reducing energy use is on everyone's agenda, organizations face difficulties in identifying saving opportunities. Wattics Sentinel is a self-learning energy analytics system providing the solution: The system converts all the complex meter readings into insightful information, and notifies customers with clear recommendations. In the past, the local intelligent platform powering up Sentinel produced considerable maintenance costs. This is why Wattics has spruced up its solution and now uses German manufactured Kontron Box-PCs in 'wartungsfrei' (maintenance-free) quality.
Author: Ingrid Einsiedler, Marketing Manager, Kontron
With increasing energy costs, companies need to significantly reduce their energy consumption and find solutions to identify energy waste and inefficiencies. Conventional commercial solutions will often only deliver dashboard tools showing 'big data' from all the different measurement devices such as utility meters, building management systems and other electricity, gas and water meters. Unfortunately, in the majority of cases the time and/or knowledge of how to process all this information in order to identify improvement opportunities are lacking. Companies consequently desire intelligent solutions to support them in this analytics challenge more or less automatically. With its Sentinel energy analytics solution, the Irish company Wattics offers the solution: built around intelligent self-learning algorithms the system automatically identifies energy waste and cost-optimization opportunities for the end customers. It also features an innovative monitoring gateway for cloud services delivering round-the-clock, instant information – accessible from anywhere – to accredited staff.
Self learning software solution
The Sentinel energy analytics solution works with an innovative software engine that – immediately after installation – automatically begins to learn from collected meter readings to identify energy use patterns. The solution thereby keeps watch over energy usage across all monitored meters from the main energy distribution board to equipment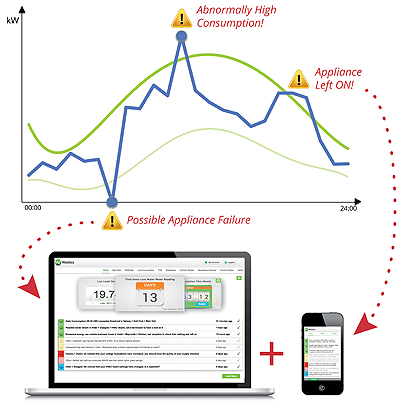 level. It constantly improves its knowledge about the operation of appliances and grid areas, identifying correlations between their use models, and characterizing good and bad energy use. After the initial learning phase, the system starts notifying area managers and operators according to settings. Crucial energy issues are displayed via clear text messages which provide detailed and easy understandable information and recommendations which can be displayed on a range of different devices such as smartphones, tablets or notebooks and desktop PCs.
Compatible to any existing infrastructure
The information provided by these messages is not data-centered but alert- and activity-oriented which prompts users to focus on the implementation of the recommended actions. This ultimately culminates in increased power savings which are achieved more efficiently. The messages and recommendations the system generates are not static, but they are continuously improved and adopted according to best practice comparisons, optimal usage values, standard figures and comparable installations. A further benefit of the Sentinel energy analytics solution is its compatibility to any common meter from site to equipment level. The investment is therefore future-proof and its interoperability helps customers to remain independent from meter manufacturers. Another benefit of the Wattics solution is the fact that a local hardware investment in such an analytics system is limited to a single monitoring gateway.
The central energy monitoring gateway
Wattics will deploy one enterprise-class Sentinel energy monitoring gateway per customer site requiring energy analytics, with the benefit that no additional communication hardware is required. This gateway is used to retrieve the meter readings through serial and/or Ethernet communication and to secure data communication towards the cloud to the system backend, hosted by Wattics. Additionally, the gateway manages pre-processing the collected data to analyze variations on power measurements. It also acts as a local back-up for easy recovery in case of an internet failure as well as a data compressor to reduce storage demands in the cloud. The energy monitoring gateway is connected to the internet via the customers' existing wired LAN or a wireless 3G router.
Features of the Wattics Sentinel energy monitoring gateway
Configuration
Run the Wattics user interface to configure metering deployment (discover meters, associate circuits to meters, configure meter and current transformer settings and set up internet)
Data Collection
Manage reliable retrieval of meter readings through serial and LAN communication
Data Back-up
Local back-up in the event of internet failure recovery
Data Pre-processing
Analyze variations on power measurements to identify initial list of energy events of interest
Data Compression
Provide compressed data and reduce cloud data storage through data pre-processing service
Data Secure Communication
Handle secure communication with Wattics cloud servers via API

The Wattics Sentinel energy monitoring gateway based on Kontron's Box-PC KBox-A101 is the central 'edge node' at the customer's site. It is connected to both the local energy grid as well as to the Sentinel grid built on modern IoT technologies.
Managing costs and reliability
The Sentinel energy monitoring gateway is instrumental with both the overall availability of the energy analytics solution and the cost efficiency of the installation at the customers' factories, shop-floors and buildings. As such, the gateway needs to be highly reliable. In installations with a required long life like in the case with Wattics solutions, maintenance requirements are particularly crucial. This is due to the fact that distributed solutions often increase costs, which can easily match or even exceed the investment cost for the entire gateway system.
Even the smallest of failures can call for maintenance work which, ideally, should not occur at all. If, for example, the gateway operating system would be causing problems or the system would crash for whichever reason, this would at least require a manual reboot. Plus, in order to identify and investigate the kind of failure, the client would have to run a number of checks. Based on the results, an on-site visit might be required and the hardware may need to be serviced, causing an increased workload as well as additional costs. In case of a distributed usage model with nation- or even worldwide installations, avoiding these failures is mandatory in the interest of economic operation and customer satisfaction.
With the Kontron Box-PC KBox-A101, Wattics finally found a platform to fit the bill. It offers German manufactured 'wartungsfrei' (maintenance-free) quality so that Wattics can now cut maintenance costs and offer a long-life solution to their customers.
Maintenance-free system designs
To achieve a maintenance-free system, industrial computers have to be built without rotating components. Rotating components wear out, are vulnerable to shock and vibration, and have to be exchanged regularly in long-term installations. Maintenance-free systems offer a fanless design in combination with the latest energy efficient processor technology. With regards to data and OS storage, maintenance-free systems rely on durable and fast Solid State Drives, ruling out mechanical failure. Another critical factor is the power supply. Some systems which Wattics previously installed experienced failures after just two years of operation. High quality power supplies that are durable and available for the entire lifecycle are crucial to maintenance-free designs. What's more, this type of high quality power supply can also often handle power failures of several milliseconds. This valuable additional feature prevents system reset and consequently serves to improve system availability.
Maintenance-free systems do not require classic button cell batteries to continuously power the BIOS or the EFI memory and the internal clock system which would have to be replaced every two to three years. Instead they use wear-free double layer capacitors – so-called gold caps – which do not require replacement and thereby maintenance. In addition to these inner values, maintenance-free systems also feature a rugged as well as dust-protected casing. This helps to further increase the reliability of the whole installation even in harsh environments, as can often be found on the shop floor or in other industrial environments.
All these features contribute to a high Mean Time Between Failure (MTBF) and consequently to the maintenance-free design of the application, provided that the MTBF is in line with the life cycle expectations of the application. The Kontron Box-PC used for the Wattics Sentinel gateway has an MTBF of 70.000 hours. That corresponds to 24/7 operation of up to eight years or in single shift operation up to 24 years. From a technical perspective, during this period the system does not require any maintenance.
"For Wattics, the high MTBF in combination with fair pricing and the long-term availability of the Kontron Box-PCs of at least 5 years delivered the winning arguments for us to choose an industrial computer out of Kontron's new 'wartungsfrei' range. Further to this, the global availability of Kontron technologies and services fits perfectly into our long-term strategy. We're convinced that with the Kontron system we've found a really sustainable solution," Anthony Schoofs, CTO at Wattics, comments ■
Additional resources:
The Kontron Box-PC KBox-A101 product website.
www.kontron.com/products/systems-and-platforms/embedded-box-pcs/fanless-box-pc/kbox-a-101.html
The press release about the Kontron Box-PC KBox-A101 launch:
www.kontron.com/about-kontron/news-events/detail/kontron-mini-box-pcs-with-iot-gateway-solutions-from-intel-reg-
More about Wattics and Sentinel can be found at the Wattics website:
www.wattics.com
Contact Details
Ingrid Einsiedler, Dipl. Wirtsch. Ing.
Marketing Manager, Kontron AG / Site Kaufbeuren
Sudetenstrasse 7
87600 Kaufbeuren, Germany
Ingrid.Einsiedler@kontron.com
www.kontron.com
Wattics contact details:
Anthony Schoofs, CTO
Wattics Ltd
31/33 The Triangle, Ranelagh
Dublin 6, Ireland
anthony.schoofs@wattics.com
www.wattics.com