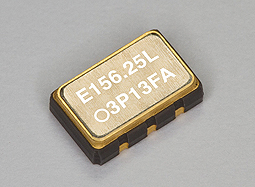 The new EG-2121/2102CB series of defferential-output SAW oscillators from Epson Toyocom are believed to be the smallest of their type in the world (Source: Epson Toyocom research as of March 15,2011). Measuring just 5.0mm x 3.2mm x 1.4mm the new devices have a 50% smaller footprint than their predecessors yet still boast high frequencies and outstanding stability. Samples of the new SAW oscillators are now available at distributor Rutronik. Commercial availability is scheduled for December 2011.
The devices in the EG-2121/2102CB series oscillate at fundamental frequencies ranging from 100MHz to 700MHz. They support 2.5V and 3.3V LVDS and LV-PECL output and consume approximately 50% less power than their predecessors.
This endows them with both excellent noise immunity and high stability: phase jitter is 0.5 ps, while frequency tolerance is ± 50 x 10-6.
Rutronik Elektronische Bauelemente GmbH
www.rutronik.com