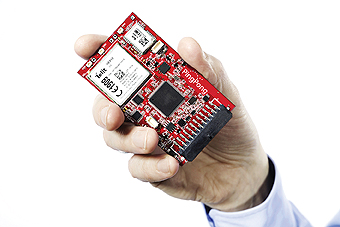 Round Solutions, a leading engineering and service specialist for IoT technologies, has launched its wireless PingPong IoT edge node, a flexible and powerful hardware platform for connecting field devices to the cloud.
The RTOS supporting small form factor board with powerful Microchip PIC32MZ 32-bit MCU and a high-speed cellular Telit module is based on a modular hardware design principle that simplifies the integration of custom-specific applications and communication standards into a single solution platform. Target applications range from cloud-connected oil tanks and intelligent waste bins up to cloud-connected gateway systems for manufacturing robots.
"Our PingPong platform offers software engineers an application-ready, pre-validated PingPong data exchange mechanism which eases the IoT integration of any field device," explains Ben Hoelke, CEO of Round Solutions. "With the supplied Round Solutions Open Source PingPong Software Development Kits the platform can be configured for nearly all IoT/M2M applications, such as sensor reading, asset tracking, routers, measurement technology, telemetry and security control. Thus, Round Solutions' PingPong offers companies wanting to transfer their data to IoT cloud-servers a complete solution including software libraries and source code."
The PingPong hardware platform offers high-speed cellular modules for the IoT connectivity as well as numerous interfaces to the field – which can also be controlled via the cloud. The standard interfaces include, for example, Ethernet, USB and CAN as well as a high-precision GNSS (Global Navigation Satellite System). Developers can add various expansion cards to create a nearly unlimited number of application scenarios. Application-ready expansion cards are available for WLAN, Bluetooth, I/0, Iridium satellite communications, ISM/RF, SigFox, NFC/RFID and camera connectivity. All functions are ready for use as soon as the expansion cards are attached to the motherboard.
Round Solutions
www.roundsolutions.de