Equipped with an Intel Core i7 processor, the CB70C COM module offers high computing performance on a small form factor board. Based on the new Rugged COM Express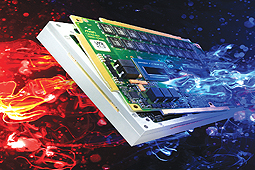 standard, it is also well suited for use in mission-critical applications.
Rugged COM Express or VITA 59 is a new standard which is based on the proven PICMG COM Express standard. Due to mechanical modifications, the modules are now also able to meet the high requirements of critical markets regarding temperature, shock and vibration, EMC compatibility and resistance against dust and humidity.
The Intel Core i7 processor family with a core frequency of up to 2.1 GHz and a Turbo Boost frequency of 3.1 GHz makes it possible to choose between 1, 2 or 4 processor cores. As many as 16 GB DDR3 DRAM are soldered to the board. In addition, Intel AMT, Open CL 1.1 and high-end graphics are supported.
The adaptable BIOS with integrated Intel AMT support can be flexibly adapted to the final application without additional costs. The Board Management Controller supervises the board functions and temperatures.
I/O interfaces of the CB70C include PCI Express, LVDS, DDI, VGA, HD Audio, SATA, Ethernet and USB. As the CB70C is embedded in an aluminum frame for conduction cooling specified according to the VITA 59 standard, it can be used in the extended temperature range of -40 to +85°C. Due to the soldered components and the compact frame, the module is also protected against shock and vibration and is EMC proof.
MEN Mikro Elektronik
www.men.de