Renesas Electronics Europe announced the certification of the second generation of its market leading OFDM powerline (PLC) modem for the FCC frequency band. This makes Renesas the first supplier worldwide to achieve certifications for all frequency bands as defined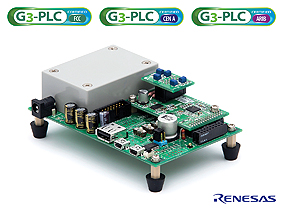 by the G3-PLC Alliance specifications, including ARIB (Japan Route B), Cenelec A and FCC. As a result, Renesas is again demonstrating its leadership and commitment to developing state of the art and future proof PLC solutions, contributing to the worldwide adoption of powerline communication standards such as G3-PLC.
G3-PLC is an orthogonal frequency-division multiplex (OFDM) based technology capable of addressing the difficult challenges of powerline communication in harsh and highly dynamic network environments, such as those found in metering applications. This outstanding behaviour is ensured by using dedicated modulation methodologies and making efficient use of the available spectrum under varying circumstances. It also uses specific signal processing techniques, such as two layer forward error correction (FEC), adaptive tone mapping and channel estimation, among others. In parallel, mesh routing mechanisms allow each node to determine the best path between remote network nodes. Renesas is a leading contributor to the G3 standard and has worked closely with the G3 alliance in the development of the worldwide G3 protocol. Based on the G3-PLC specification, the differentiating factor for Renesas' PLC modem is its use of dedicated implementation techniques. This is the result of the company's several decades of experience with connectivity technologies. The certified device integrates a MAC controller as well as a high performance digital signal processor (DSP), covering the physical layer (PHY) implementation. The embedded analogue front end (AFE) contains an adaptive gain amplifier with automatic gain control (AGC) functions. This ensures exceptional signal quality with outstanding robustness and unique sensitivity characteristics. The system architecture of Renesas' second-generation device keeps the flexible concept of its award winning predecessor, allowing support for multiple standards and frequency bands with a single device.
Renesas Electronics Europe
www.renesas.eu