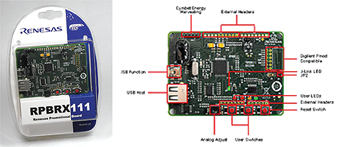 Renesas Electronics Europe announced the availability of the new RX111 Promotion Board (RPB), a cost-effective evaluation platform designed to facilitate the evaluation of Renesas' RX111 microcontrollers (MCUs) in a wide variety of applications. The RX111 RPB comes with an integrated power measurement tool, enabling the user to easily measure the power consumption of the microcontroller running on the RPB. The RX111 RPB comes with all the software and hardware required to easily develop and evaluate applications on the RX111 MCUs. Designed to support a broad range of markets, the new RX111 group delivers a combination of ultra-low-power consumption, on-chip connectivity and superior performance at attractive price points.
Developers can use the RX111 RPB to test microcontroller performance in their low-end 32-bit embedded applications, including mobile health care, smart meters, sensors/detectors, and industrial and building automation.
The new RPB includes a Segger J-Link on-chip debug function with a target RX111 microcontroller. It offers both host and peripheral USB connectors, as well as a supercap to allow continued operation when the power is removed. The RX111 RPB comes with a number of sample applications, including a low-power demo with a PC graphical interface to allow developers to measurement of the power consumption of the target RX111 in each of its low power modes.
The RX111 RPB includes the following elements:
• RX111 target board with integrated power measurement
• Renesas C compiler and e2 studio Integrated Development Environment ( limited to 128k code & data after 60 days)
• Graphical Code Generator
• Graphical user interface for the power measurement system
• Free of charge host and peripheral USB sample code
• Low-power demo application
• USB demo application
Renesas Electronics
www.renesas.eu