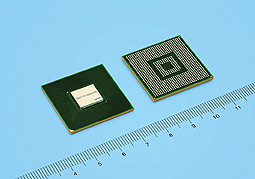 Renesas Electronics announced the availability of the R-Car M2 automotive Systems-on-Chip (SoC), designed to address growing integrated dashboard and information device market demands. Capable of delivering more than 12,000 DMIPS and twice the graphics performance of previous generation high-end devices, the R-Car M2 supports high-definition navigation, real-time voice control and other advanced features to provide enhanced connected user experiences within the car.
An R-Car M2 software development board is also now under development and will be available in December 2013 to further simplify and speed the development cycle for designers working with the R-Car M2 SoC. With the newest member of its R-Car series, Renesas aims to expand and reinforce the ecosystem led by the R-Car Consortium, the partner program of operating system (OS) and software providers.
The new R-Car M2 SoC exceeds the previous high-end R-Car H1, with more than three times the enhanced CPU and approximately 6 times the graphics capacity and three times the memory bus function compared to the previous R-Car M1. In addition, the software package utilizes the software developed on R-Car H2.
Automotive information devices today integrate IT such as cloud computing with smartphones, and functions for safety such as around-view monitoring with onboard camera to offer drivers higher security, safety, and conformity. As integrated dashboard systems improve and become more and complex, auto makers require higher performance, function, and product quality. This results in higher difficulty in hardware/software development, rising development cost, longer development period, and difficulty in maintaining product quality.
Renesas Electronics Europe
www.renesas.eu