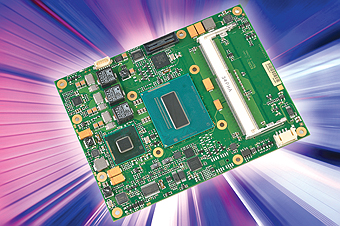 The MSC C6B-8S module is based on Intel's 4th generation of Core™ processors supporting triple independent displays, DirectX 11.1, fast low-power DDR3L-1600 memory and USB 3.0 on a COM Express module.
This product family brings a significant gain in computing and graphics performance compared to its predecessor.
Various Core i3, i5, i7 and Celeron processors are supported by this design. Besides an extensive set of interfaces and features, the MSC C6B-8S offers turbo boost capabilities for CPU and graphics controller, accelerated video encoding / decoding and hardware based security compliant to the requirements of TCG (Trusted Computing Group).
The Type 6 pin-out allows direct access to the latest digital display interfaces like DisplayPort, HDMI and DVI. USB 3.0 interfaces support the fastesd peripheral devices currently available.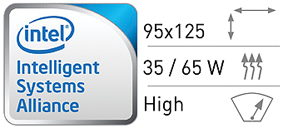 Highlights
• Intel® Core™ i7-4700EQ (quad-core, 2.4/3.4GHz), Intel® Core™ i5-4400E (dual-core, 2.7/3.3GHz), Intel® Core™ i5-4402E (dual-core, 1.6/2.7GHz), Intel® Core™ i3-4100E (dual-core, 2.4GHz), Intel® Core™ i3-4102E (dual-core, 1.6GHz)
• Intel® HD Graphics 4600 (GT2)
• Intel® 8-Series PCH QM87
• Up to 16GB DDR3L-1600 SDRAM, dual channel
• Four SATA mass storage interfaces, up to 6Gb/s
• Three DisplayPort/HDMI/DVI interfaces
• Two Embedded DisplayPort interfaces
• LVDS (24 Bit, dual channel) and CRT interface
• Triple independent display support
• DirectX 11.1, OpenGL 3.2, OpenCL 1.2
• Resolution up to 3800 x 2400
• Seven PCI Express™ x1 lanes
• Four USB 3.0 and four USB 2.0 interfaces
• UEFI Firmware
www.msc-ge.com