Renesas Electronics announced the development of the R-Car T2 system-on-a-chip (SoC), an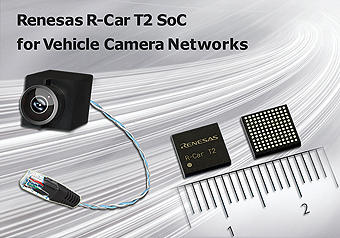 SoC dedicated for Ethernet AVB-enabled vehicle camera networks, complementing the company's popular R-Car Family devices for infotainment, instrument cluster and ADAS (Advanced Driver Assistance System) applications. The new R-Car T2 enables the delivery of high-resolution camera video through multiple systems while maintaining real-time performance with low latency levels. These capabilities are key to providing the "surround view" monitoring and obstacle detection applications that contribute to safe driving experiences.
Initially used for rear-view functionality and parking assistance applications, the use of vehicle cameras has since expanded to support 360-degree "surround view" functionality that expands what is seen by the system to every direction around the vehicle, helping to improve driver safety. To further optimize safety, vehicle camera video is also now being used in driver assist systems for braking, steering and providing obstacle detection warnings, for instance when changing lanes. These sophisticated systems demand substantially higher processing performance in order to handle the expanded range of image recognition targets and increased processing load imposed by multiple cameras with higher pixel counts. Ethernet AVB offers features such as guaranteed bandwidth and synchronization of multiple cameras simultaneously, and a system involving additional cameras that can be flexibly upgraded. Moving forward, Ethernet AVB is expected to become the mainstream technology for automotive high-speed networking. The R-Car T2 supports multiple standards including IEEE 802.1AS, IEEE802.1Qav, IEEE802.1Qat, and IEEE1722 standards.
Renesas Electronics Europe
www.renesas.eu